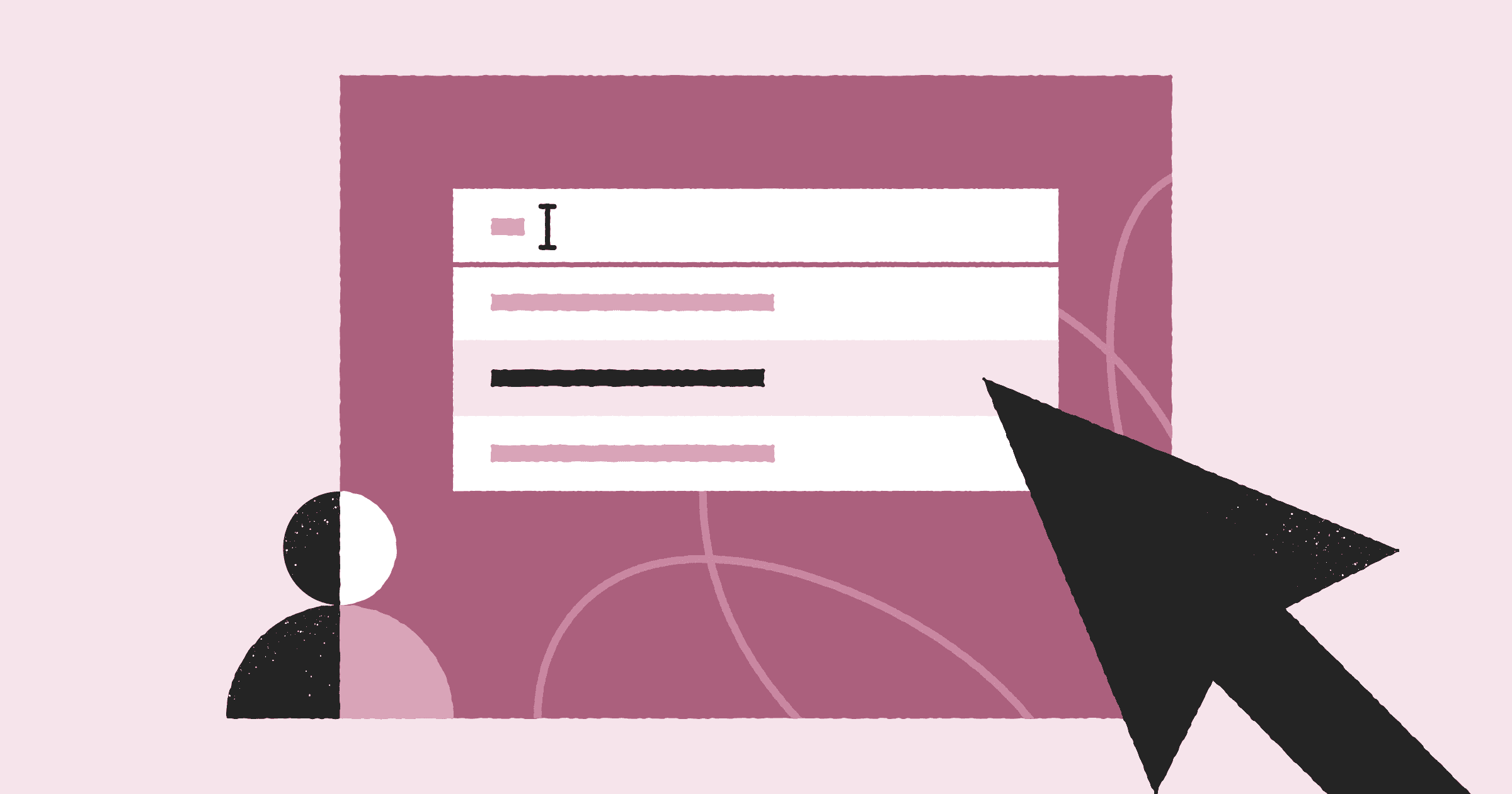 With Forms, it's easier than ever to collect information and electronic signatures from employees, suppliers, prospects, and job applicants. We've built PandaDoc Forms for all sorts of teams: sales, HR, operations, customer success, marketing, legal, and more.
You can easily create and share a form by embedding it on your website or sharing it via a direct link — no customer email or coding experience necessary.
We'll go into the different features Forms has to offer and what industries and teams we're seeing getting the best use out of it.
New to Forms? Check out this short overview.
Is Forms a fit for your business? We looked at some pain points our customers were dealing with prior to adopting Forms when it came to collecting information.
Lack of form submissions
Slow submission process
Losing paperwork or taking a long time to find specific forms
Errors on forms
Manually following up on many forms
Creating forms and keeping them up to date is a time sink
Experiencing any of the following common issues? If so, maybe Forms could be a solution.
We took into consideration what our customers were looking for when it came to a form. They wanted a form that generated a workflow, required eSignatures, collected payments, and protected sensitive information.
Let's look into some of the many benefits our customers have discovered with Forms.
Time-saving
Use Forms to speed up the process of generating and signing standard forms and complex documents, while working remotely, saving design consistency, and keeping under control your workflows in one place. Forms is a no-coding-required builder, complete with pre-built and custom form templates, so you spend less time creating forms. Save time, money, and hassle by capturing massive customer data electronically and routing it automatically.
On-the-go? We've made Forms easy to edit. You can simply disable the form, make changes right inside the document, and publish the updates form in one click, without change the form link or code.
Holistic workflow
Reduce paperwork to zero and automate the entire document workflow process while having everything all in one place. Forms helps you exclude typical human errors issues like spelling accuracy, data validation, transcription-related errors.
Have a specific person that needs to sign all documents generated from your form? You can assign them to a specific form role. For example, if your HR representative processes all time-off requests, you can assign them to the HR role. When the employee fills out the time-off request form, they only need to specify their manager. Your HR person will automatically receive the form because they've been assigned to that specific role.
You also have the ability to set up the signing order when dealing with multiple roles. This will allow recipients to only receive the document once the appropriate signature has been captured in whatever order is pre-assigned.
Overall experience
We created a user-friendly way for users to input data but also ensure sensitive data is protected from unauthorized access. Recipients can easily and securely enter payment information with confidence.
Speaking of payments, Forms allows you to connect any payment application, like Stripe, PayPal, QuickBooks Payments, Square, or Authorize.net.
We've also improved accuracy with data validation at the entry point. Not only are you able to create good-looking documents that are customizable but you also have a great overall editing experience.
Insights
You can track interactions with your form and get immediate notifications when the form is submitted, received, filled, and signed. Recipient analytics allows you the ability to react to changes or client's passiveness faster and more accurately. You can access highlights of a user's experience or their overall journey throughout the form-filling process.
PandaDoc Forms features you'll love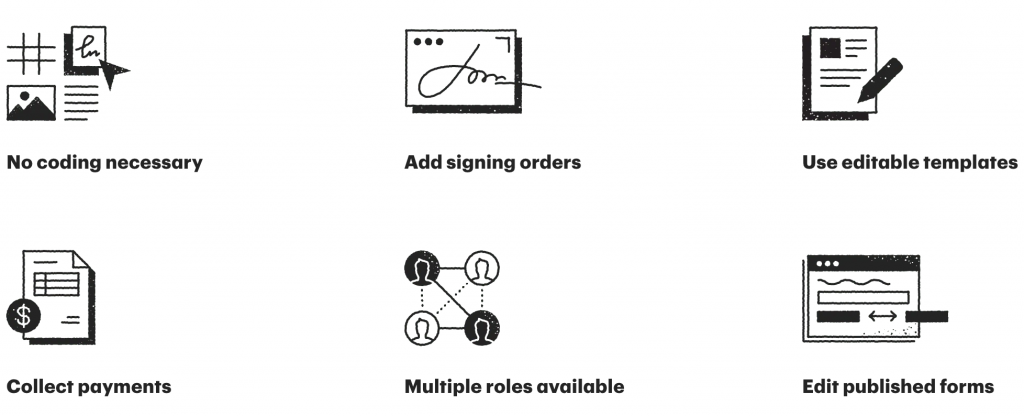 Now let's look into the different industries that are using Forms, teams, and how they're using it.
Many industries take advantage of PandaDoc Forms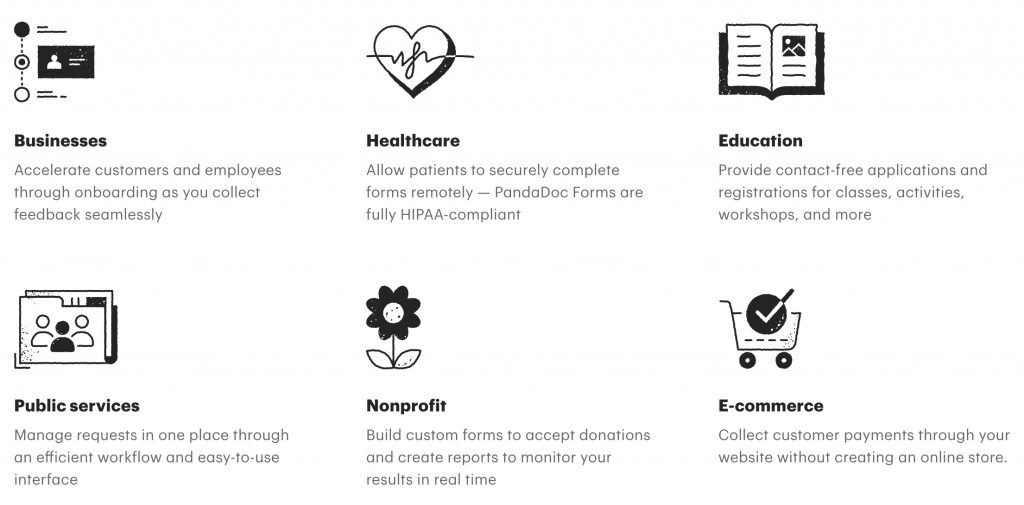 Use cases by industry
Education
Students registration
Collecting fees
Events registration
Collecting feedback
Teachers contracts renewals
Gathering parent permissions
Graduation documents signing
Healthcare
Request an appointment
Client questionnaire
Covid screening prior to visit
Analyze and share data
Data collection, storage, and manage sensitive information
Non-profit
Collect donations
Recruit volunteers
Event registration
Run fundraising campaigns
Public Services
Request management
Government forms
Telecom in-person signed contracts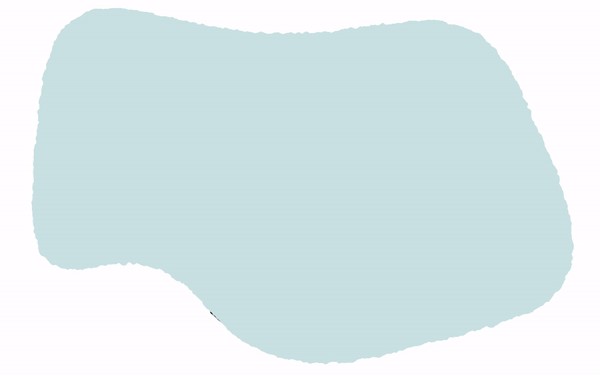 Use cases by team
Sales
Close deals faster by collecting prospect requests, eSignatures, and even payments.
Collecting lead information
Sign up Form on their website (mostly for enterprise)
Close self-service deals
Collect eSignatures and payments
IT Questionnaire
New Vendor Forms
MSA/NDA
Purchase Order
HR
Automate employee tasks like vacation requests and sick leave, plus resumes for candidate openings. Onboard new hires quickly and painlessly by eliminating endless paperwork for new employees.
Let's say your HR department wants to have all of their new employees fill out the same onboarding documents from their employee resource website. Once the document is completed, they want to import a PDF of that document into their HR system. Forms is a great fit in this situation!
Onboarding documentation
Time off requests
Candidate applications
Employment Applications
W-4
Check out how one of our customers, ACT Holdings, is utilizing Forms in their HR department.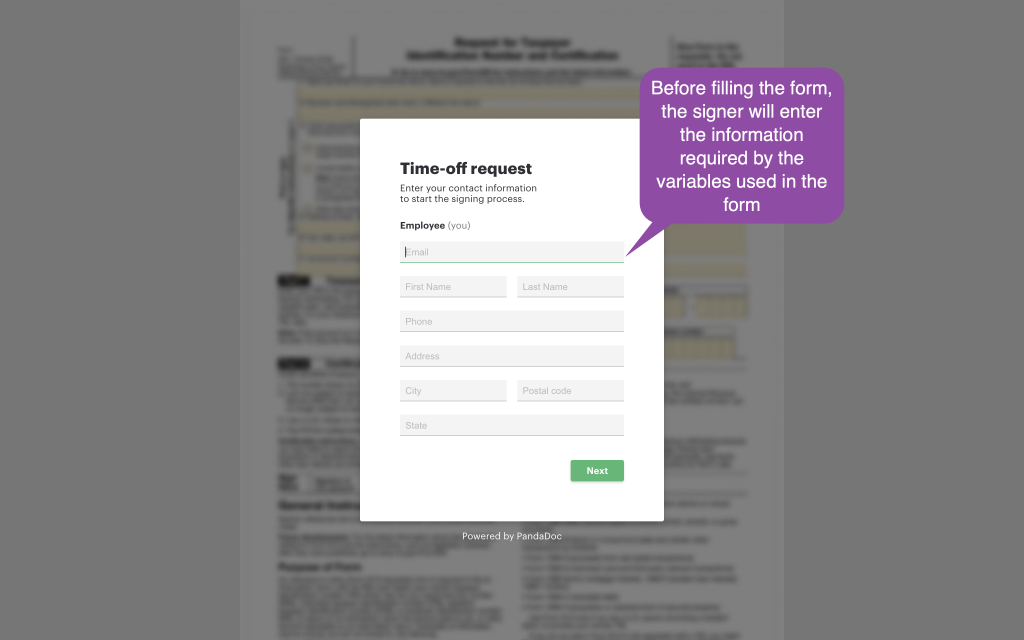 Customer Success
Create intake forms that will improve customer communication, satisfaction, and retention. Collect customer needs ahead of calls so your onboarding process goes quickly and smoothly.
Onboarding process with forms that reduce the need for onboarding calls
Customer feedback forms
Customer request forms
Operations
Streamline requests from every corner of your organization, manager workflows with your existing tools, and much more
Collecting requests within organization
Manage internal workflows within CRM
Marketing
Simplify marketing tasks like lead and signup collection, content tracking, email list building, and event registrations. Use custom-coded forms to improve lead predictions and create more autonomy
Track downloadable content
Collect leads, signups
Collect mail signups
Event registrations
Legal
Keep redline edits secure on custom legal forms by sharing a link instead of sending multiple emails.
Let's look at another example. Your legal firm has several admin forms that need to be signed off on before they can start work with a new client. You want to store the forms on your website, allow the prospect to sign, trigger a signing order for a spouse, and end with the document stored in one of their drives with Zapier. Forms can also help here!
You can create any type of application form

Wrapping up
We're just on the first release of Forms and are continuing to developing Forms to best fit your needs. We love to hear from our customers, so if you have any suggestions, submit them via Uservoice!
Want more information on how to get started with Forms? Check out our Help Center article.
Don't have Forms? Get with your Customer Success Manager today to get started!