Our newest version of PandaDoc, Editor 2.0, is officially live! Compared to the Classic Editor you're familiar with, Editor 2.0 offers a more modern, responsive editing environment that makes creating documents in PandaDoc smoother, faster, and simply more enjoyable.
You may have read about Editor 2.0 in our recent 2020 Product Recap or heard from a member of our team about how awesome it is, but chances are you want to know more before you simply sign up to "upgrade your account" (whatever that means).
If you're not sure which Editor you have, check out this article first: Which Editor version do I have? (Hint: If you're already using Editor 2.0, there is no need to upgrade!)
Now for the nitty-gritty of upgrading from the Classic Editor to Editor 2.0. We'll cover:
Interface changes (like the new location of the Send button)
Determining the right time for your team to upgrade
Best practices for narrowing down your content
What to expect from our team throughout the process
Migration milestones to check off as you go
If you already know that you're ready to upgrade, let our support team know by filling out this form and we'll get you up and running in no time!
So let's get to it!
Why do I have to upgrade?
Fair question.
All new PandaDoc features are now only released in Editor 2.0, and after June 21, 2021, we'll offer only non-bug-fix support via chat to users of the Classic Editor. In order to provide the best experience for you and your customers, we are putting all our efforts behind Editor 2.0. Besides getting a more modern, powerful, and responsive editor, you'll also gain access to brand new features outlined in this Editor 2.0 2020 recap.
Although PandaDoc's Classic Editor and Editor 2.0 are both PandaDoc, they are entirely separate platforms, so your current documents, templates, and content library items are not compatible with Editor 2.0.
But fear not! Your Classic Editor content won't be altered and will remain accessible – even after your account is moved over to Editor 2.0. Any outstanding documents awaiting signature or payment will not be affected and can be completed as usual.
Although you will have access to all of your documents regardless of which editor version you are using, we do recommend converting all of your templates and content library items so that future documents will be created in Editor 2.0.
If you're not sure whether you're ready to upgrade, please read our Editor 2.0 Upgrade FAQ.
Classic vs 2.0
There are a few key differences between the Classic Editor and Editor 2.0. We'll cover these changes to ensure your transition is as seamless as possible.
Pages
Templates and documents look a little different in Editor 2.0. With the Classic Editor, there were 2 types of documents: uploaded (PDFs) or editable. We have removed this distinction and now there is only 1 type of document which can contain either uploaded content or editable content (or both!)

While you could manually add page breaks, the Classic Editor did not automatically separate content into pages. With Editor 2.0, we've added visible page breaks that you can place manually and indicators for PDF page breaks (which will automatically display when your standard page length is exceeded).
Editor 2.0 has 3 different types of pages:
Cover pages
Content pages
Uploaded files
Unlike Classic, you will see the natural PDF page break as you work, so you'll know exactly what your document will look like if you choose to download or print it out.
Cover pages have absolute positioning, so you can drag and drop blocks and fields anywhere you want to. Cover pages offer the most flexible design options and you can use as many cover pages as you'd like, anywhere in the template – whoa.
Content pages now support side-by-side block placement, meaning you can position blocks in columns instead of above/below another block.
Uploaded files such as PDFs will remain uneditable; however, they can be positioned anywhere through the document and you can drag and drop content blocks and/or fields on top of them with absolute positioning.
Variables
Remember Tokens? Well we gave them a makeover (and a name change).
Introducing… Variables!
No need to to copy and paste each individual variable into your template – all you have to do in Editor 2.0 is type a left square bracket and choose your placeholder from the dropdown menu. Also, you're no longer limited to only adding variables to templates – you can add them to documents in Editor 2.0 as well for last minute edits.
Tweaks
Editor 2.0 is not just about fancy new features. The document editing experience is much more intuitive than before, but it may take some getting used to at first.
Take a look at these features/buttons that we moved to a different spot in the editor:
Create/Send button (depending on if you're in a template or document)


Template Roles

Content/Image Library

Tokens/Variables

Additional settings

When should I switch to Editor 2.0?
Our team has helped over 6,000 accounts successfully upgrade to Editor 2.0, and we've picked up a few pre-migration best practices along the way:
Timing is everything
Determine the right timing for your team (and you!) by blocking off your calendar. Here are the time periods to avoid:
End of the month
End of the quarter
End of the fiscal year
If you're in the middle of a big process change (like integrating a new CRM)
Other than that, you're ready to start! You may have some legwork to do as an admin in order to migrate your content over, but your team will not experience any downtime during the upgrade.
Spring cleaning
The biggest decision you'll have to make is which content you wish to convert. The number and their complexity determines the length of time it will take to transition your account.
Don't worry, you'll still be able to see, access, and download your Classic documents if needed. You can even still use the Classic editor, but you probably won't want to!
The first thing that your CSM will ask you to do is provide a list of templates and content library items that need to be recreated in Editor 2.0. This sounds like a daunting task, but content organization and a little spring cleaning can lead to SO much time saved down the road.
Take a look at this content review flowchart to help you determine what our team will recreate: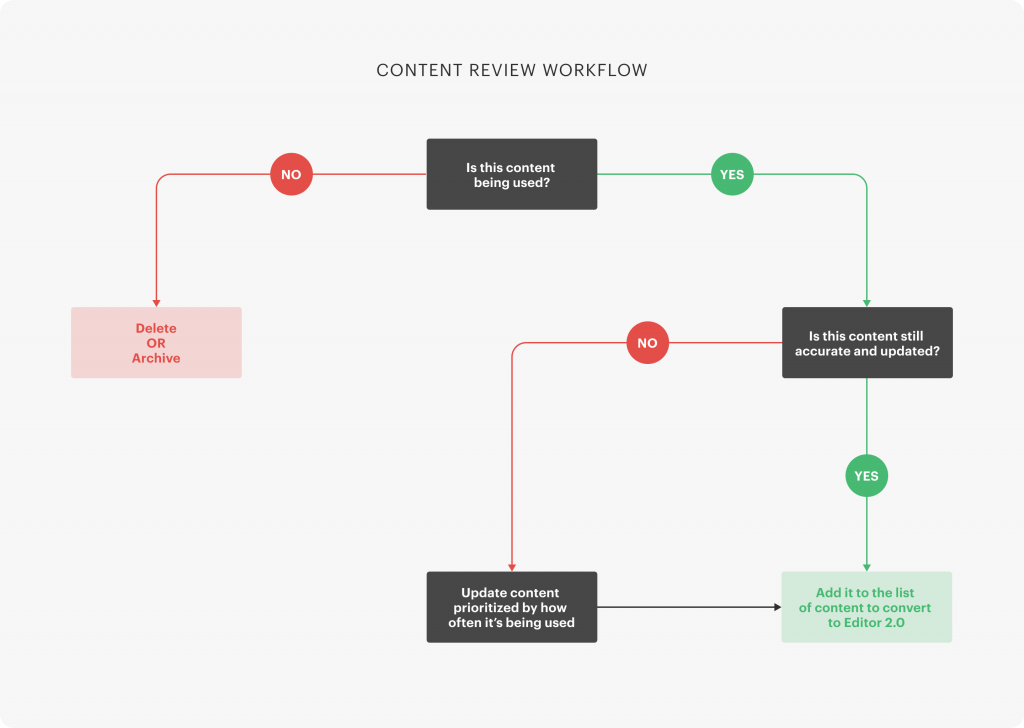 Pro tip: Use Content Reporting to see what templates and content library items your team uses the most.
What should I expect during upgrade?
Here are the details you need to know before switching and exactly what to expect when you upgrade:
For those on our current pricing, it's no additional cost to upgrade to the new editor! If you've been on a contract with an outdated pricing plan, you will need to talk to your CSM about any changes to your pricing. Additional costs will only occur if you decide to purchase extra content conversion or onboarding services.
Most accounts have found that 1-2 one-hour training sessions are enough to get your admins up-to-speed on the new editor.
You should expect a 14-day turnaround for content conversion, but the timeline could vary depending on the number of templates & content library items that you want us to recreate.
Our 24/7 Support team is here to help along the way via live chat or email – just in case.
Migration milestones
Here is a comprehensive checklist of your upcoming migration milestones.
Note: You probably know if your account has a dedicated Customer Success Manager, but if you're not quite sure, feel free to double-check with our Support team.
If you have a dedicated Customer Success Manager:
Review this Feature Comparison article to ensure there will be no gaps in your workflow
Ask your CSM to try Editor 2.0 (for up to 2 weeks)
Send your CSM 1-2 Templates for conversion to try out
Attend Transition to Editor 2.0 Training or watch the recorded version
Evaluate your content (see the Spring Cleaning part of this article)
Send your CSM a list of Templates & Content Library links to convert to Editor 2.0 format
Review your new Editor 2.0 content for design and accuracy
Train your team on Editor 2.0 (ask your CSM how we can help!)
Make a plan to remove access to Classic Editor
Still have questions? review our FAQ
If you're working directly with our Support team:
So, now what?
If you're ready to upgrade your PandaDoc experience (remember, it's free!) just reach out to our Support Team or your Customer Success Manager.
Still not sure you're ready to upgrade to Editor 2.0? Read our Editor 2.0 Upgrade FAQ and Check out what Eric Pratt, one of our first Editor 2.0 beta testers, had to say about it: