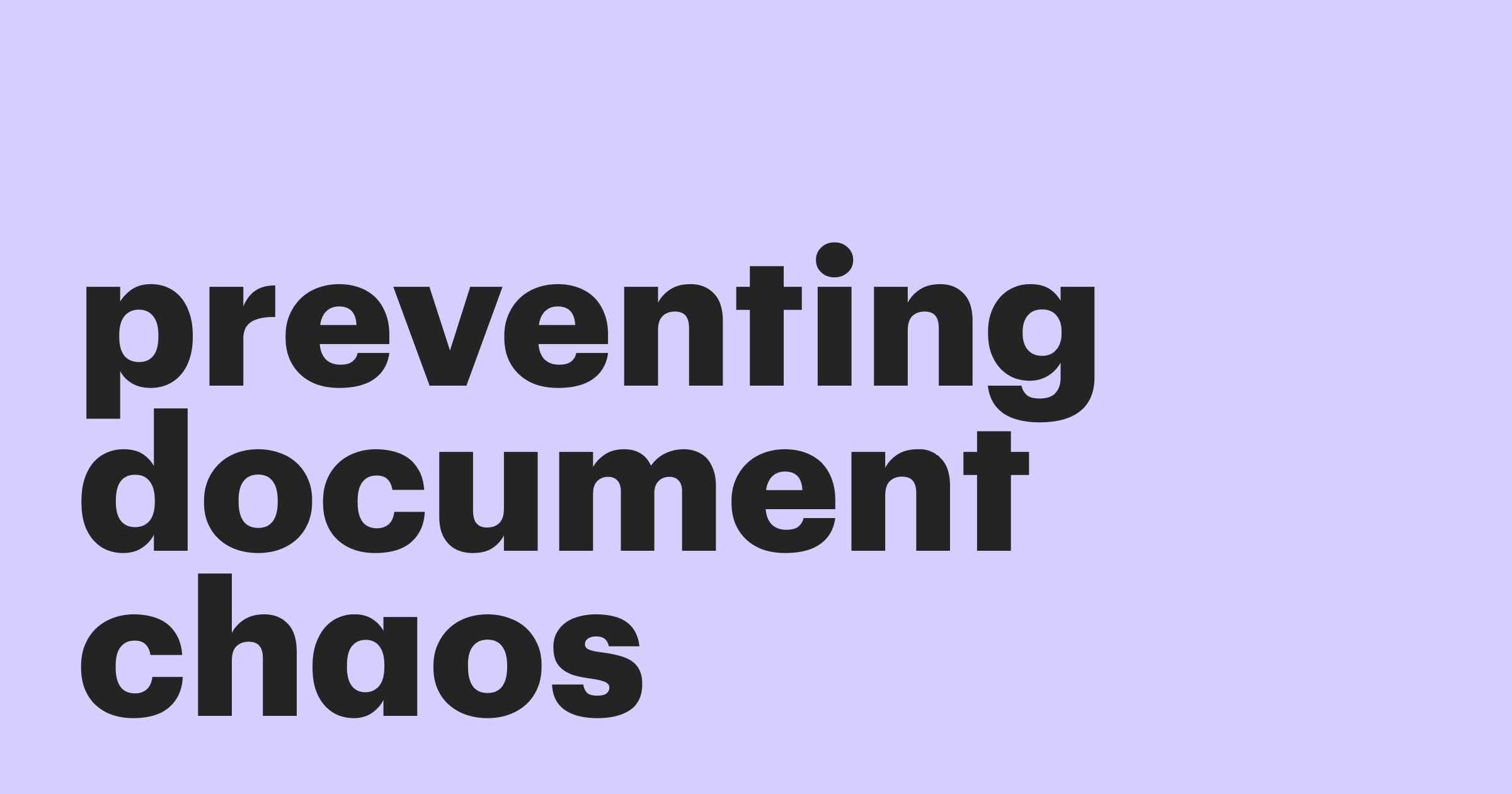 Between keeping up with the market and ensuring that your team has the right tools and systems to succeed, business leaders are now faced with more challenges than before when it comes to growing and scaling their businesses.
Documents shouldn't be one of those challenges.
Creating document processes that align with how your business operates allows you to oversee your critical business documents from creation to completion without adding more to your plate.
This article will show you best practices for maintaining quality and control over your business documents inside PandaDoc.
Optimize your account structure
Optimizing your account structure is all about setting your team up for success.
You should aim to organize your account so that you can quickly locate documents and ensure your team is always using the most up-to-date content.
Custom account roles
Each PandaDoc account has five roles – account owner, admin, manager, team members, and collaborator. These roles come with their own set of permissions.
Here's a quick overview:
Account owner has full access to the entire account
Admin has full access to a specific workspace
Manager can send and view all documents within a workspace and add new users
Team members can send and view their documents but can't access the documents sent by other team members
Collaborators can access, view, and comment on documents shared with them
Not everyone will fit within the constraints of those five roles. That's where custom roles come into play. If you're the account owner for your organization, you can create a custom role and set up permission levels unique to your company within a specific workspace.*
Here's an example, if you work with a freelance graphic designer to create templates and other visual assets for your business documents, you can create a custom role for the freelancer that gives them access to change your workspace branding, create and edit themes, and full access to your templates and content library without giving them permission to create and send documents within a given workspace.
*Available on the Enterprise plan
Workspaces*
As your business grows, you may find that your sales team isn't the only ones relying on PandaDoc.
Marketing, customer success, and human resources now all have documents and subfolders within what was once a centralized location for your sales documents.
Before things get too chaotic, you should take a moment and create a workspace for each department. You can easily distribute content across separate teams, departments, groups, or projects.
Each workspace has its own dashboard, documents, templates, catalog items, and contacts.
With separate workspaces, you can grant and restrict access to a given workspace using the roles we mentioned in the section above.
*Available on the Enterprise plan or as an add-on to the Business plan
Share with workspace
Need to share content across multiple workspaces? No problem.
In just four clicks, workspace admins can easily share content library items and templates between workspaces.
That means you don't have to duplicate your efforts to create new content within each workspace.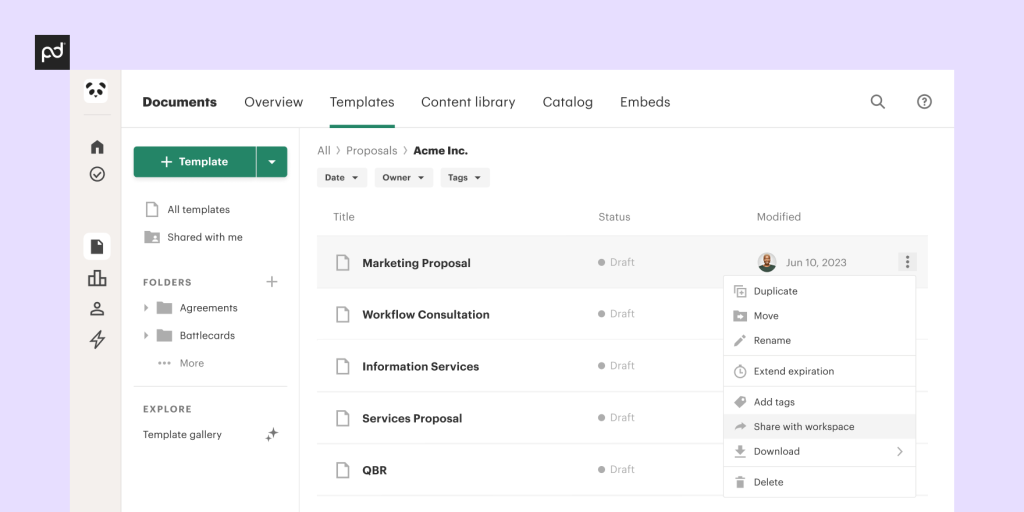 Let's say your legal team has recently updated the terms and conditions for your product.
Instead of going through individual workspaces of sales and customer success, you can just hit "share with workspace," select the workspaces you want to share it with, and just like magic, the shared content will appear in the respective workspaces.
You can share individual files or even entire folders of content within a workspace. These content pieces will be read-only, but workspace team members will be able to duplicate and reuse the shared content as needed.
*Available on the Enterprise plan
Define your document workflow
As with account structure, it's important that you clearly define your document workflow to ensure your team is working in the most efficient manner possible.
Workflows (or processes) are essentially how your team gets the job done from start to finish.
Defining your process sets the stage for your document lifecycle. It helps you automate recurring tasks, keeps everyone on the same page, and helps your team communicate clearly.
Here are some of our favorite tools to help you fast-track business processes.
CRM Integrations*
Before you can standardize procedures around document creation, you need to determine where your team will create the bulk of your documents.
If your team heavily relies on a customer relationship management tool (CRM) to house your customer and deal data, connecting PandaDoc to your CRM is the way to go.
PandaDoc integrates seamlessly with some of the best business tools, including Hubspot, Pipedrive, and Zendesk Sell. For a complete list of our integrations, click here.
Our native integrations allow you to create, send, track, and eSign documents without leaving the application you're already working in. Check out the video below to see how our Salesforce integration works, or sign up for one of our on demand courses on CRM configuration.
Check out the video below to see how our Salesforce integration works.
* Available for Business and Enterprise plans
Automated workflows
Sharing documents via email is an ineffective way to collaborate with stakeholders. It often results in miscommunication, delays, and the document being overlooked entirely in some scenarios.
Instead of relying on traditional collaboration methods, you can create an automated document workflow.
Automated document workflows are rules for collaborating, reviewing, and approving documents. Inside of PandaDoc, you can set up three different workflows:
1. Approval workflow* is an internal process that allows you to send documents to designated approvers before sending them to your customer.
A common use is during a sales rep's first 90 days, when the sales team lead or manager may want to sign off on proposals before it reaches a client.
You can assign individual approvers or set up a group of approvers (one person can sign off on behalf of the group) for specific templates. If you're ready to learn more, take the on-demand course.
*Available on the Business and Enterprise plans
2. Conditional approvals* this process is similar to traditional approval workflows. However, it only informs designated approvers if a specific condition is met – document value, line item total, or discount amount.
The document will automatically move to the approved status if the condition is not met. Take a look at the example below of how conditional approvals works in the PandaDoc Editor.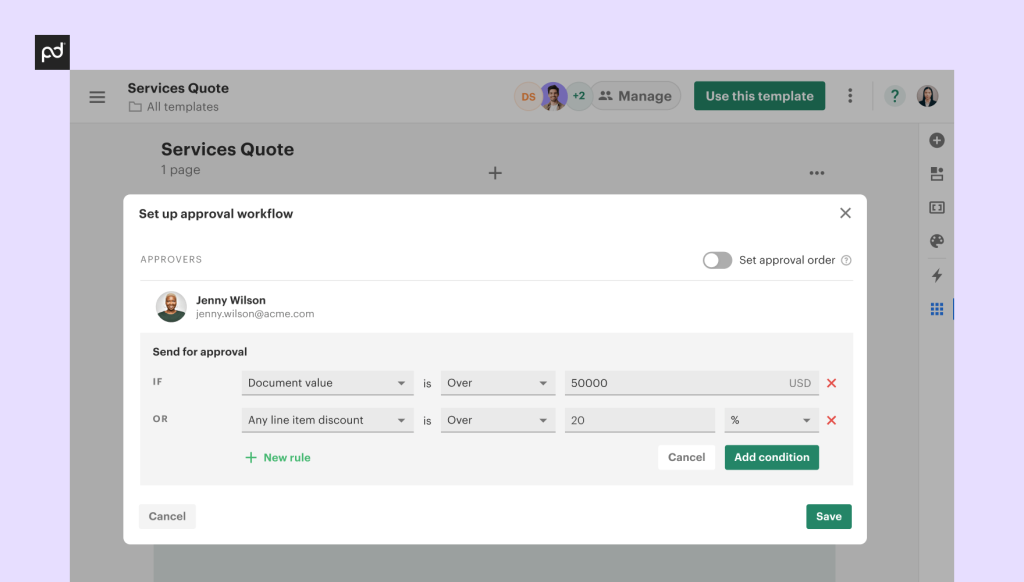 The proposal has different rules set up for each approver. Marya must review and approve this sales proposal if the document value is over $50,000.
Jordan will review and approve the sales proposal if any line item discount is over 20% or if the total discount is over $5,000.
If the total value is over $50,000 and the sales rep offers a line item discount of over 20%, Marya and Jordan will review the document.
You can toggle on the set approval order feature if your team has a specific order for approving documents (i.e., Jordan approves the discount before reaching Marya).
*Available on the Enterprise plan or as an add-on to the Business plan
3. Signing Order allows you to preselect in what order you want your recipients to sign a form. When you set up a signing order, the document will be sent to internal and external stakeholders one at a time until the document is complete.
For instance, when a recruiter sends an offer letter, they can set up an order that looks like "new hire > hiring manager > director of human resources."
Setting your account up to best support your workflow(s) empowers your team to move faster and creates consistency across your entire organization.
Personalize the buying experience
Consistency doesn't mean you should take a one-size-fits-all approach to your documents. Your customers have their own pain points, interests, and buying habits.
When you personalize an experience to a customer, it makes them feel valued and more likely to engage with your business over a competitor.
Research indicates that customers expect seamless, personalized experiences at every touchpoint. Let's look at a few ways you can deliver that experiences at scale without compromising the quality of your documents.
Content locking*
Earlier, we discussed how you could restrict access to different documents and workspaces. The same is true for specific content blocks.
Content locking allows you to restrict your team members from editing, moving, or deleting a specific block inside content library items, pricing tables, templates, and documents.
Marketing can use content locking to ensure no one removes branded content items like your company's logo. Legal can use it to prevent users from tampering with the terms and conditions of a contract.
And sales can lock down the entire pricing table or specific columns within the pricing table.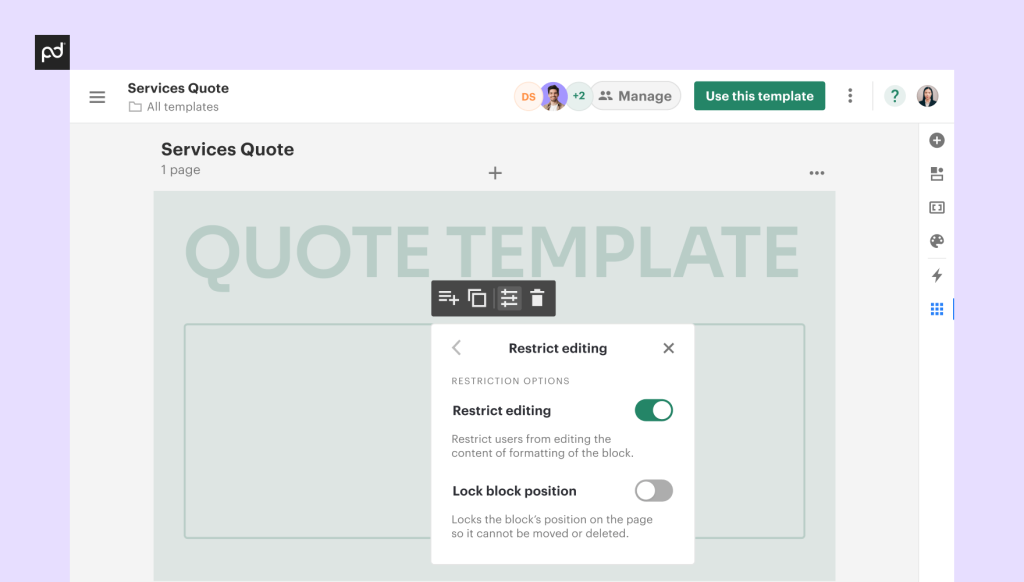 *Available on the Enterprise plan or as an add-on to the Business plan
Smart content*
Personalization goes beyond just including your customers' contact information in a document.
It's about taking that information and showing relevant product recommendations, reviews, and other information they might find useful during their buying experience.
With Smart Content, you can dynamically populate content library items such as videos or terms and conditions based on variable values when a user generates a document from a template.
Check out this overview video of Smart content:
You can use preselected or conditional content to tailor your documents. Conditional content uses if/then statements to assemble content for your team (ex., if the client industry is education, then show an education case study).
Preselected content is slightly different as it allows your team to choose pieces most relevant to their client from a pre-approved list of content. Ready to dive in? Take the on-demand course to become a Smart Content pro.
*Available on the Enterprise plan or as an add-on to the Business plan
Document tracking analytics*
Building a buying experience that caters to your customers' needs doesn't stop once you hit send.
PandaDoc offers real-time document tracking and advanced reporting that give you an inside look into the document lifecycle.
Document tracking analytics gives you a complete document audit trail, which can benefit highly-regulated industries like healthcare and legal.
Depending on your preference, you can set up email, in-app, or Slack notifications alerting when a client opens, views, completes or eSigns a document.
You'll also be able to dive deep into page analytics to review time spent on the page, times viewed, percentage of time spent on a page, and the last view.
These analytics can help you gauge when to follow up with a client. Maybe you notice that a prospect is spending a lot of time looking at the pricing page. You can reach out to them and see if they have questions about pricing.
*Document Tracking is available for Essential, Business, and Enterprise Plans
Advanced reporting*
Document tracking analytics is great for individual team members that want to keep a pulse on the sales cycle in real-time.
However, you might find more value in our advanced document reporting if you're an admin or manager. Advanced reporting gives you the full picture of how your documents perform.
With performance data and reporting, you can A/B test different content library items and documents to improve engagement rates and keep your team equipped with the best documents.
You'll also be able to easily transform that data into easy-to-read charts, graphs, and tables to share key findings with stakeholders.
*Available on the Enterprise plan or as an add-on to the Business plan
As your team continues to evolve, we recommend you revisit your account structure and document workflows regularly (bi-annually or quarterly) to maximize your team's usage of PandaDoc.
We hope this information is insightful and inspirational. If you're ready to start implementing some of the practices or features covered, contact your Account Manager.