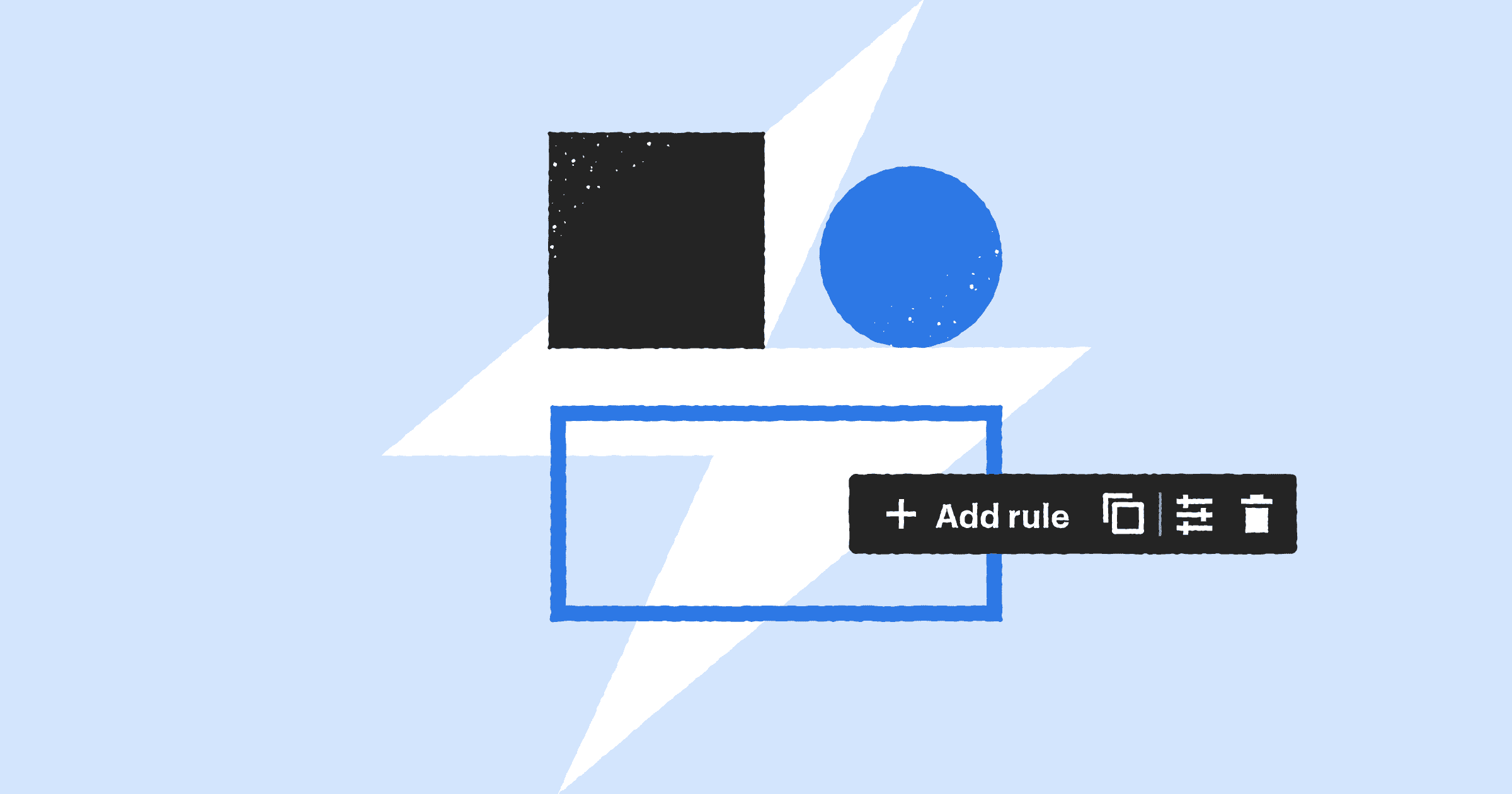 Smart Content has been a long-requested feature that has significant potential to supercharge your workflow and recipient's experience, especially for those using a CRM integration or managing a library of templates with slight nuances.
This article will teach you all about Smart Content and how to use it in your document workflows to simplify document creation.
User Note: Conditional Content is exclusively available on our Enterprise Plan. Content Placeholders and Preselected Content are available on Business and Enterprise Plans.
What is Smart Content?
Smart Content empowers your team to create consistency across dynamic documents without sacrificing customization while saving you from hours of administrative work.
With Smart Content, you can remind your team what to include, preselect content for them, or apply advanced logic in just a couple of steps.
As a workspace admin or manager, you'll create a single template that will automatically generate content relevant to your customer's demographics (location, industry, use case, etc.) based on rules you set up in the template.
Check out this short video to see how Smart Content works.
The goal of smart content is to reduce the number of mistakes and make sure the right information is correctly added to the document while still allowing the user to choose the pieces most relevant to the customer.
Smart Content consists of content placeholder, preselected content, and conditional content.
We will take a closer look at each of these elements and share some examples to help you get started with Smart Content in your existing document processes.
Let's jump in.
Show customers the right content at the right time
Content placeholders* help guide your team to choose the pieces of content like case studies, terms and conditions, and other content library items that could be beneficial to the document's recipient.
When you drop in a smart content block, you'll be able to add a note directly to the placeholder to remind other users of what type of content should go into certain sections.
The note can be as simple as "add earn media" or more in-depth like "add at least one customer quote + supporting testimonial video."
This gives your team the flexibility to add content pieces that will resonate with the recipients while preventing them from going rogue and changing up the complete design and layout of the document.
Build better documents in half the time
Preselected content* limits the number of content library options for the user in the document.
Let's say you've already added a placeholder to your template with a note to "add case study."
Instead of making your team spend a ton of time searching for the right case study, you can select and add relevant content library items to a list of preapproved content for that specific placeholder.
When users are preparing to send a document, they can simply choose a case study from a preapproved list without going through your entire content library.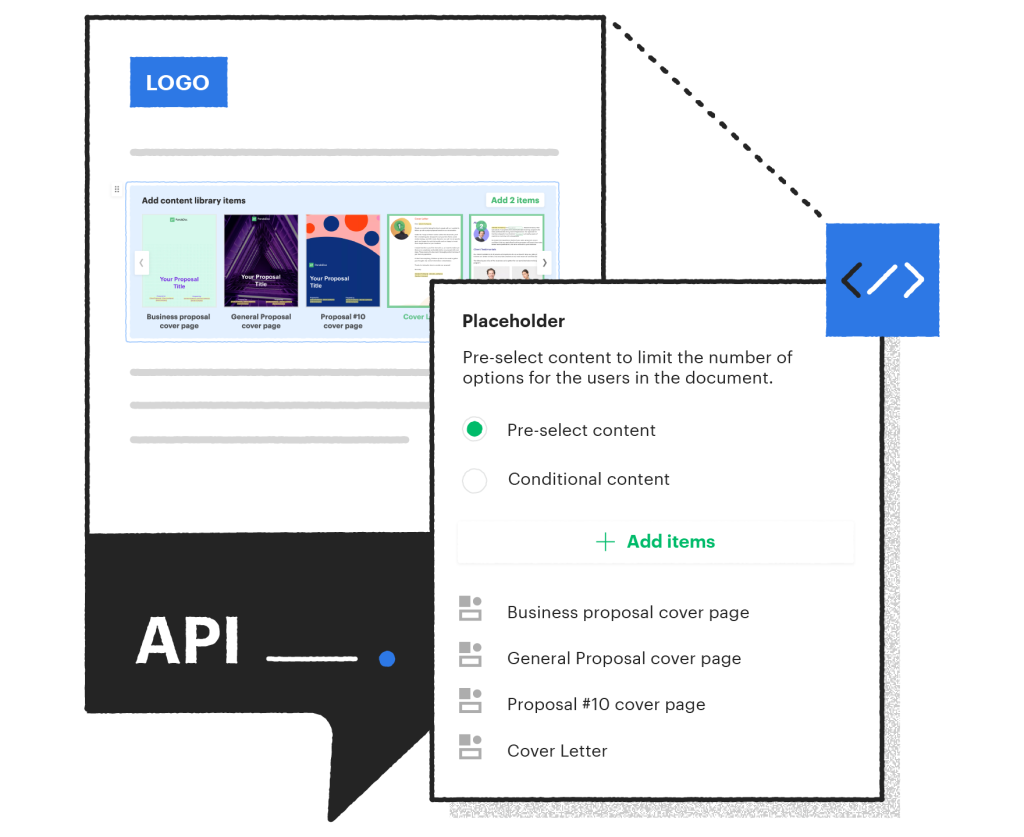 Preselected content is a great way to guarantee that your team sends the most up-to-date content to your customers.
You might be wondering, what happens if a user forgets to add content to the placeholder?
If they try to send the document without adding content to the placeholder, they will receive a notification prompting them to review the missing field and add content.
Create impactful customer experiences
If you want to truly build documents as unique as your individual business relationships, conditional content** is the way to go — conditional content automatically adapts content to your customer while the sender generates the documents using conditional logic.
With conditional content, you can tailor documents to recipient use cases, industry, company size, and more based on role system variables, including pricing table variables or any of your CRM variables from a single template.
Don't believe us, here's what Stephanie Winter, Solutions Architect Administrator at Business Outsourcing Consulting had to say about conditional content.
"The Smart Content feature has been a game-changer for our company. The ability to give users focused options to choose from has help[ed] speed up our process. Using the Conditional Smart Content along with variables, we are able to use one base template for most of our documents and can pull in what we need for each individual document. This has been a massive time saver both with document creation as well as the review and approval process."
Here's how conditional content works. Once you've added a smart content block to your template, you will go into the block's properties and add a conditional rule.
To create a conditional rule, you will start by selecting a variable from a dropdown menu or entering a CRM variable such as client industry or client country.
From there, you will use the if/then logic to determine which content pieces should appear based on specific criteria — if the industry is healthcare, then show the healthcare case study.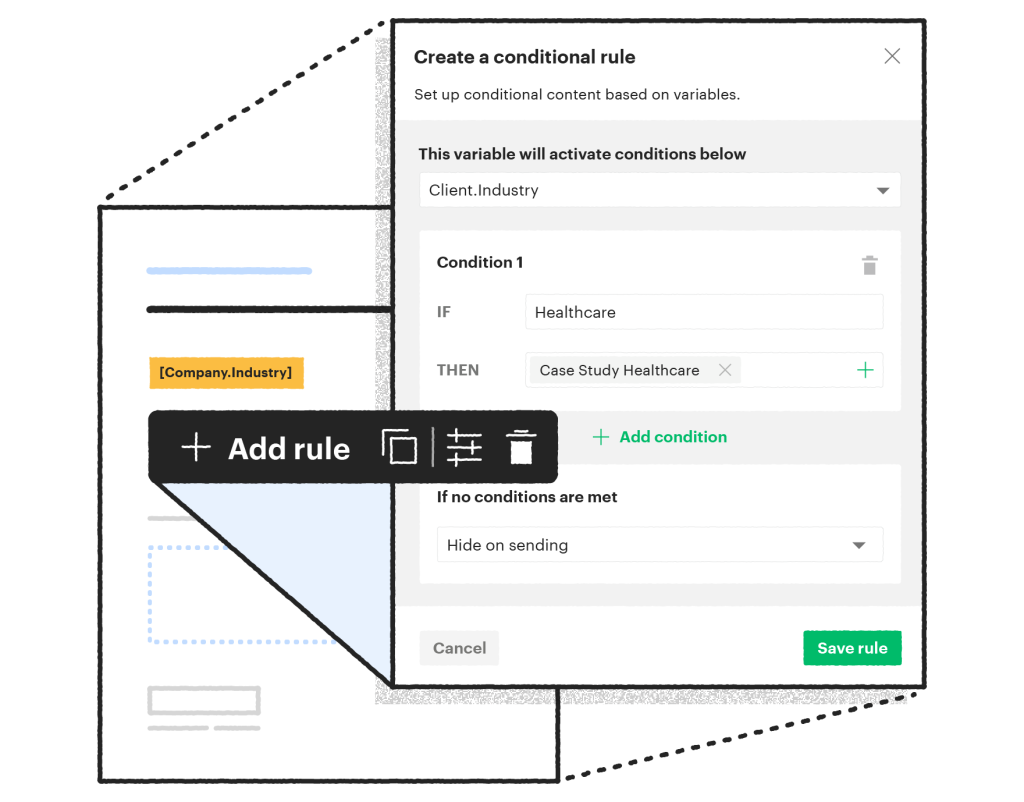 Let's take a look at a few examples based on commonly used variables.
Industry
Show proof of your expertise and trustworthiness with case studies and certifications. With Smart Content, you can show your clients specific pieces of content relevant to their specific industry.
For instance, suppose the client industry is Education.
In that case, the document will only show content specific to education, such as FERPA certification or a case study showing how other schools and universities use your product or service.
Location
Ensure your documents are compliant by automatically inserting all the required legal clauses and other information based on the recipient's geographical location, so you don't have to worry about whether your document is valid.
Here's an example. Say your business works with health organizations in both the EU and US. You can set up a condition based on the client country variable to make sure you get all the legal stuff right.
Your conditional rule would state: if the client country is the United States, then show the HIPAA Compliance clause or if the client country is France, then show the GDPR Compliance clause. 
You can also use conditional content based on the location variable to automatically insert the correct pricing for a specific state or country. This will come in handy when working with different local and state taxes.
Let's say your manufacturing company works with boutiques across the country.
Instead of preparing a purchase order template for each state, you can set up conditional rules based on the client state variable.
The conditions would state: if the client state is Arizona, then show AZ pricing tax or if the client state is California, then show CA pricing tax.
Supercharge conditional content with a CRM integration
If you have PandaDoc connected to a CRM like Salesforce, HubSpot, or Pipedrive, the conditional content will auto-populate based on the variables pulled from your opportunity or customer profile.
You can set up conditional rules based on:
Client Plan Variable: If the client plan is business, then show the pricing table for the business plan or if the client plan is enterprise, then show the pricing table for the enterprise plan.
Client Use Case: If the client use case is "contract," then show relevant content library items related to the contract use case.
Learn more about passing information with variables in HubSpot, Pipedrive, and Salesforce with this helpful resource. Not integrated with a CRM? Get started today!
A smart content block will be hidden on sending if no conditions are met. You can also select default content library items to be populated in the document in such a case.
Ready to get started with Smart Content? Check it out in the product today!