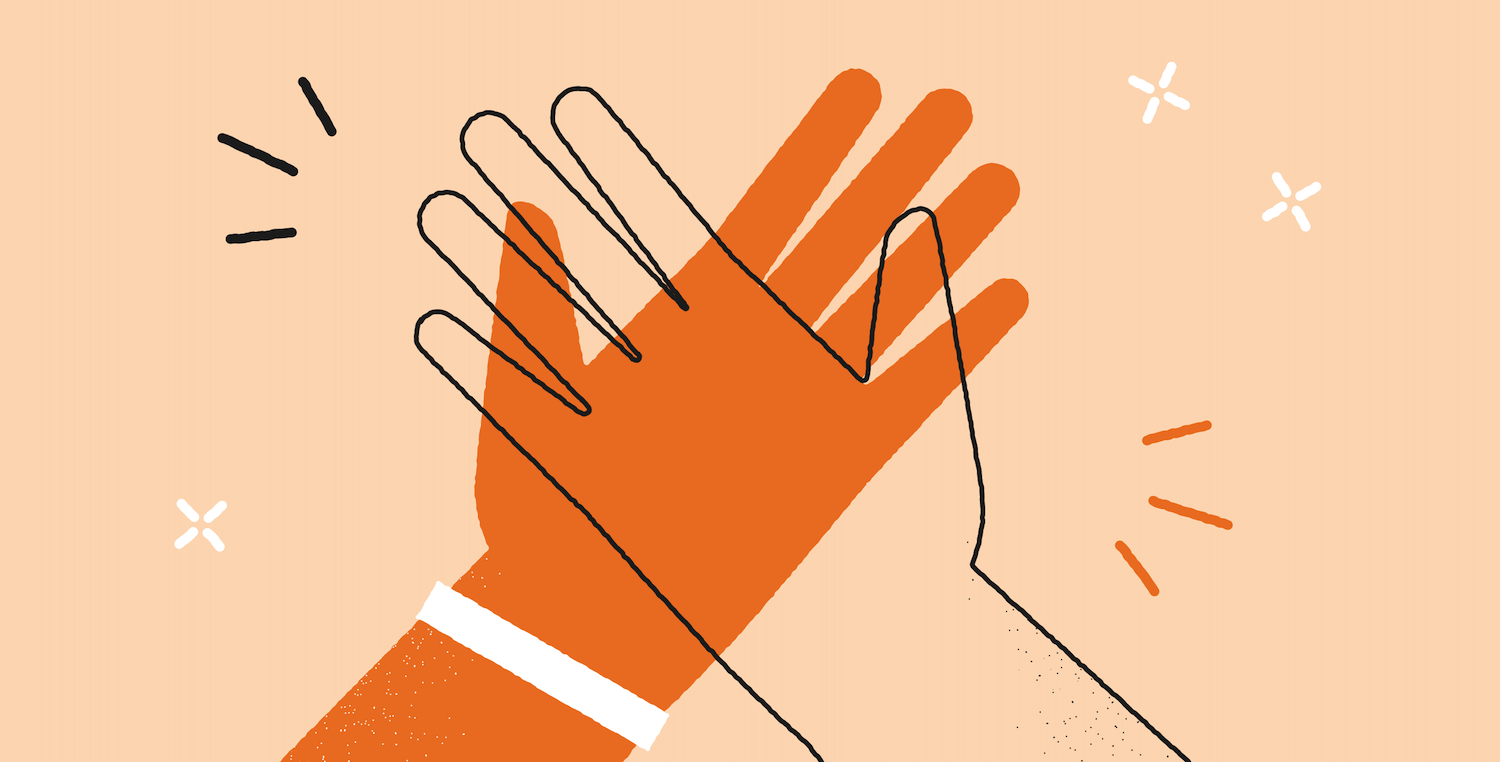 As a Customer Success Manager, you're compassionate, value-driven, empathetic, and a master communicator – but you're also a stone-cold quota killer.
Customer Success is all about win-wins: your customers' success is a reflection of your own. We know you take that very seriously (so do we).
Although PandaDoc is historically a tool for sales teams to win new business, our own Customer Success teams have been using it for years to enrich the customer experience well beyond the initial close date (as you may have noticed).
In this article, we'll be spilling our customer success secret sauce that keeps our top clients coming back for more. We'll cover how Customer Success Managers leverage PandaDoc to:
Onboard new clients
Drive adoption
Secure renewals
Increase revenue
Share product updates
Demonstrate value
Onboard new clients (with style!)
Change is hard. No matter how excited your customer is to get started with your product, getting fully up-to-speed with a new tool is a daunting task.
With dynamic documents that guide your customer through every step of onboarding, you can make deployment a breeze for your customers while tracking their progress on your end with Recipient Analytics.
Depending on your product, your initial training could be a single document, or a series of documents. Either way, here are a few elements of an effective onboarding process:
Focus on the plan they purchased
Not only do your customers need to know how to use your product, they need to see it as something they can't live without. As if that wasn't challenging enough, they are also busy and often rather impatient.
Bottom line: keep things as quick and simple as possible right off the bat. Avoid complicating the initial onboarding by focusing on the plan they purchased rather than explaining the benefits of other plans or additional product lines.
List key terms in a glossary
Each product has its own terminology. As an employee, it's easy to default to using internal lingo when speaking with your customers. List out any key words or product-specific terminology so your customers know what you're talking about and can easily search your Help Center on their own.
Remember to onboard the day-to-day users
This may seem obvious, but when you're dealing mostly with decision-makers and admins, it's easy to overlook the oh-so-critical training of the actual end users. Enable your customers to train their teams with an end-user training guide that they can pass along to their team members to promote initial adoption.
Make the transition as easy as possible
If your customers are transitioning from another tool, make sure to use language they're already familiar with. Not only does this show your industry expertise, it makes it that much easier for your customer to leave your competitor in the dust.
Drive adoption
As you may know all too well, a deal is not "done" just because a contract was signed. Getting the decision-makers to sign on the dotted line is one thing; getting the team to actually use the product is a whole other challenge.
It's critical to give your clients a checklist (with a timeline!) in order to set and manage expectations. Check in with your clients frequently to learn more about their pain points, goals, expectations, and experience so far with you and your product.
Our team uses a Success Plan (sent via PandaDoc) to measure progress and plan for future success. When building out these docs, they are sure to include:
Team introductions
Introductions are not just for formality's sake: you're putting faces to names, humanizing the interactions taking place over many email threads, and making each person's role as clear as possible.
Account overview
Admins often coordinate multiple vendor accounts, so a quick list including account info like the number of seats they purchased and the name of the plan is more helpful than you'd think. Sure that's all listed out in the contract, but those can be hard to track down especially if they've been a customer for a while (unless they manage their contracts through PandaDoc, of course 😉 )
Objectives
To be a true customer champion, it is vital to understand your customer's business goals and top priorities. Reinforce your position as a true strategic partner by referencing previous meetings, and clearly stating your customer's objectives and denoting progress towards accomplishing those goals.
Metrics
Whenever possible, show the impact that your product has had on their business. Look to the data to pinpoint areas of success and areas in need of improvement to drive continuous improvement. Having success metrics on hand is also a huge bonus for your admins and champions who are responsible for managing their team and showing the impact of your product to their internal stakeholders.
Secure renewals
Create top-of-the-line renewal agreements in minutes to wow your customers and secure that next contract term. You can use those handy success metrics to clearly illustrate the value your product adds to their business.
It's best to be transparent about upcoming renewals and use it as a prompt for discussing their experience with your product. Not only does this ensure that you're on the same page for the upcoming renewal, it gives you an opportunity to overcome any issues or objections they may have and point out areas of improvement.
Renewal notifications
Set renewal reminder notifications 30-90 days ahead of time so you have ample time to smoothly manage the renewal process. From your PandaDoc dashboard, you can easily track all of your upcoming renewals to stay ahead of the curve.
Increase revenue
Renewals are a great time to have conversations around growing and expanding accounts. Our customer success teams use this as an opportunity to audit accounts and identify areas of expansion in order to improve the overall impact of our product.
Using PandaDoc's interactive pricing tables, you can uplift renewals in minutes by offering optional upgrades and add-ons. The better you understand their business goals and their current pain points, the easier it is to present a solution at the time of the renewal. Remember, it's not just about the success they have had thus far; it's about continuing to provide incremental value.
Share product updates
Keep your customers informed and engaged by showcasing new and updated features. If your customers are not aware of what's new and improved, they may be missing out. They may even start looking elsewhere – not realizing that you actually have a solution for them.
In our product update docs, our team is sure to include:
Brief overviews of each update (what problem is it solving?)
Quick how-to blurbs (with links to relevant resources)
Visual display of the feature itself or how it works
A sneak peak of what's coming next
and here is my favorite part:
A section for product feedback!
Although Recipient Analytics will give you insight into what matters to your customers, let them tell you their favorite updates (and their top asks for your product team).
Demonstrate value
If you can't tell – we're all about sharing insights so our customers can see the impact that PandaDoc is making on their bottom line.
Every quarter, our Customer Success Managers present key metrics to our top clients. They create a personalized document for the presentation itself that they also send to the customer afterward for review.
Here are the elements of what we refer to as an "Executive Business Review":
Agenda
Agendas are key for setting expectations and structuring the call. Use the interactive Table of Contents to list agenda items (and provide an easy way to navigate through the agenda items).
Referral suggestions
If they're doing well and you can prove it, why not ask if any other teams or departments in their org could get onboard and replicate their success?
Wrapping up
Your sales team fought hard to win your customer's business and you've worked hard to keep them happy. With PandaDoc in your toolkit, you can create effective onboarding programs, showcase success in order to retain their business, and present growth opportunities to make them even more successful (while increasing revenue)! Simplify your process and deliver top-of-the-line personalized customer experiences. Win-win.