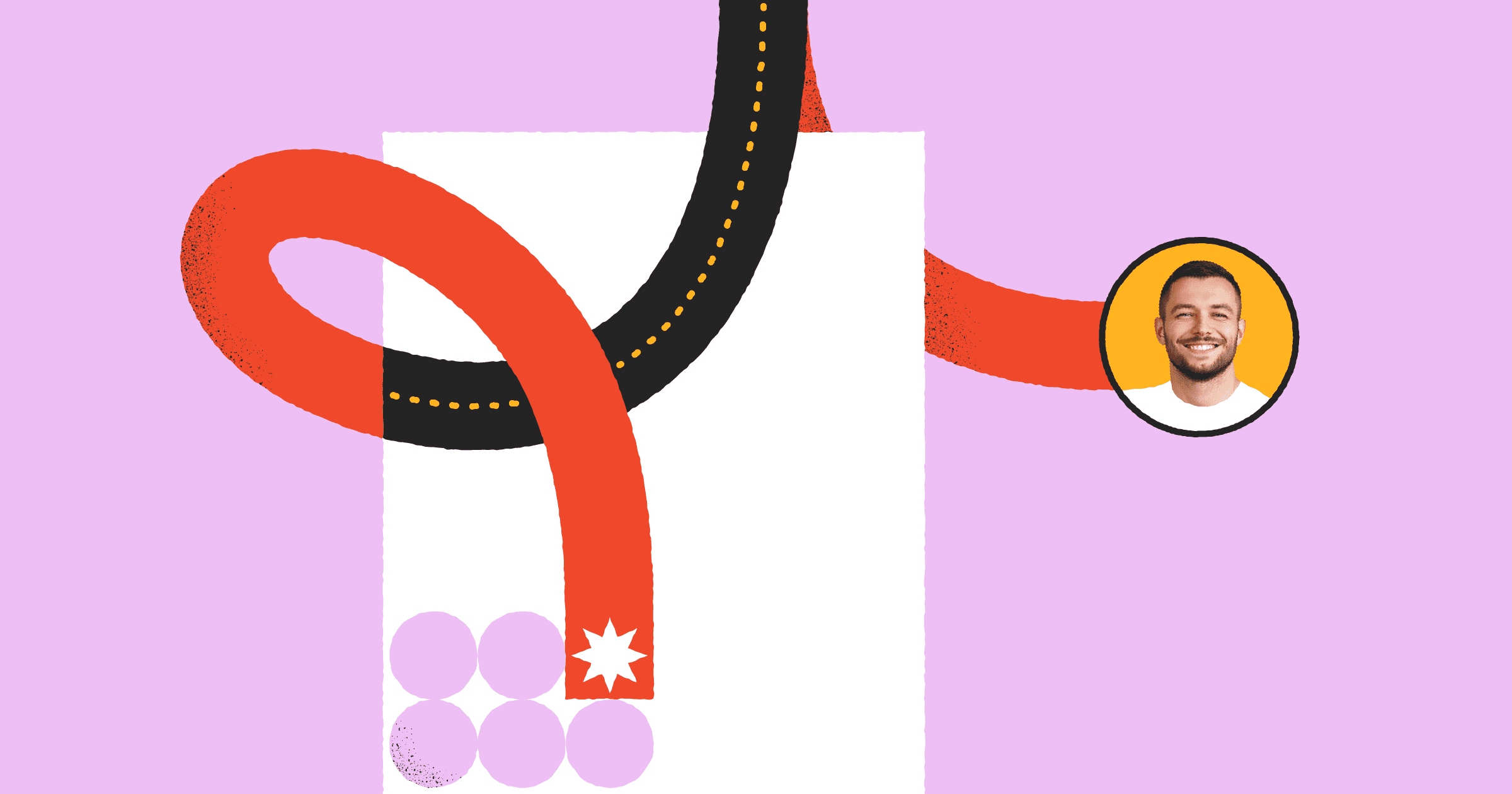 PandaDoc isn't just for your sales teams. Virtually every department in your business can benefit from a comprehensive document solution like PandaDoc, and we're going to show you how.
In this two-part series, we're going to unpack the unlimited possibilities of PandaDoc for your small business.
We'll start by looking at how different customer-facing teams like sales and customer success can use PandaDoc to streamline document creation and provide personalized customer experiences.
And in part two, we'll dive into how business-facing teams like Ops can also leverage PandaDoc to accelerate business growth.
By automating mundane tasks like document creation and data entry, you can create consistency across your critical business documents and give your team more time back in their day to focus on revenue-generating activities, like generating and nurturing sales, recruitment, or maybe even going home early, because happy employees = happy customers.
Now, let's look at the mix of popular and lesser-known features other small businesses are using to maximize their PandaDoc investment across their entire organization.
NOTE: Some of the features discussed in this article are exclusively available on Enterprise or Business plans. If you're interested in a feature not available on your current plan, please contact your Account Manager.
Sales
We believe that quality and speed are equally important factors for your proposals and contracts, and you shouldn't have to choose.
By empowering your sales team with the right tech and automation, you can exceed buyers' expectations and eliminate blockers standing in the way of you closing a deal.
Some of our most productive sales teams use integrations, catalogs, and conditional approvals to get sales documents out in as little as two minutes. Here's how you can use these same tools in your everyday document processes.
PandaDoc has saved us time and money by shortening our sales cycle. We've reduced the amount of redlines and increased our sales velocity, allowing us to save time and money."

Michael McCarthy, Co-founder at Inkit. Read their story.
Catalog
If your business offers a variety of products and services or different packages, our catalog feature is a must-have for your document processes.
Instead of manually adding different products to your pricing table for each document, you can create a catalog of items that you can repeatedly use in your proposals and quotes. The catalog automatically comes with default fields for SKU, product name, price, and description.
However, you're able to customize the fields to align with your direct business needs. Let's say you're a clothing manufacturer.
You can add additional fields for size, color, and texture or even add pictures of your inventory to help guide your customers to the right items. This helpful resource will help you get started.
Once you have cataloged your inventory, you can add items from the catalog to your document in two ways: 1) click "products" at the bottom of the pricing table and search for the item, or 2) just start typing the product name in the "name column" and autosuggest will show you the available items.
Conditional approval
Picture this: you're at the final stages of negotiating a 2-year contract worth $34,000, and your client is interested in a 10% discount in exchange for a case study.
It's a tempting offer, but you need your manager Frank to sign off on the deal because it's a discount of over 5%.
You can use a few options to get this deal to the finish line. You could obsessively ping Frank about the deal on Slack (we're sure he'll love that), attempt to grab some time on his calendar, or just use conditional approval. We recommend the latter option.
With conditional approval, you can set up an advanced automated workflow based on specific criteria using if/then logic.
The approver will only receive the document for review if you have met certain conditions. In the example above, you would set up a workflow that says if the total discount is above 5%, then Frank needs to approve the document before it reaches the client.
Conditional approval not only benefits sales reps.
Managers like Frank can use the tool to have more control over what goes out to clients and keep tabs of when and how often their sales team offers discounts over 5%.
In addition to setting up conditional approval based on the total discount amount, you can set it up based on the total document value or line item discount ($ or %).
Conditional approval keeps deals moving forward without you jumping through hoops to get there. Need help setting up conditional approval? Check out this step-by-step guide.
Integrations
Let's talk about low-value, manual work for a second.
Copying and pasting deals and customer data into sales documents is not only a tedious task but error-prone. Put a zero in the wrong place, and you're sure to be in hot water with accounting and legal.
Not to mention the time commitment for manual data entry. Don't let your sales team spend 60% of their time on admin work when setting up native integrations can be done in a day's work. They'll love you for giving them more time to meet their quota.
Our no-code native and Zapier integrations allow you to connect PandaDoc to the tools you know and love in just a few steps.
PandaDoc has over 25+ integrations, from payment tools like QuickBooks Payment and PayPal to Google Workspace, down to direct connections to leading CRMs like Salesforce, Pipedrive, and Zendesk Sell. These integrations allow you to create and send documents from within your favorite tools.
One of our most talked-about integration to date is our HubSpot CRM integration.
By connecting PandaDoc and HubSpot, you can auto-populate new documents with deal data, including company and prospect contact information from a deal, contact, or company record in HubSpot.
You'll also be able to merge crucial data from HubSpot into variables throughout your document and templates, allowing you to easily update field values and create documents in PandaDoc in just one click.
Customer success
In a perfect world, your customer success team would spend 100% of their time having high-value conversations with customers and helping them uncover the true value of their investment.
Unfortunately, that's not always the case. CSMs spend more time digging up critical customer data and preparing documents than they get to spend with customers. But it doesn't have to be that way.
You can provide incremental value to customers and never miss churn risk, expansion, or renewal opportunities without being bogged down with manual tasks.
Customer success teams, including our team here at PandaDoc, have found that tools like templates, interactive pricing tables, and renewal reminders can help cut down the burden of manual tasks and help them put the focus back on customers.
Let's dive into how these tools can help your team kickstart strategic conversations and streamline document processes at every customer touchpoint.
"The implementation was extremely easy. Within a day, the CS team was using it. "I've implemented 5-6 sales software, and this is one of the easiest, if not the easiest one."

Tate Stone, Head of Technical & Revenue Operations at Grow. Read their story.
Templates
Creating success plans, quarterly business reviews, and other documents for customer meetings manually can take hours.
Templates can drastically reduce your document creation time and create consistency across your entire organization.
You might be thinking that templates will take away your ability to customize your documents, that's not the case. Our templates actually help you create personalized experiences for your customers at scale.
PandaDoc has over 750+ business templates available in our Template Gallery and Community Gallery that can help you prepare customer documents in a flash.
For example, this Quarterly Business Review template helped PandaDoc's CS team cut their QBR prep time by 83% (from 45-60 minute prep time to 5-10 minutes).
When you find a template that's right for you, simply open it in-app and use our drag and drop editor to add your logo and other content library items to tailor it to your needs.
Once you've made the template your own, you and anyone in your PandaDoc workspace can create documents from it.
Interactive pricing table
A reusable template paired with an interactive pricing table can help smoothly guide customers to value every step of the way. Interactive pricing tables give your customers the power of choice for optional upgrades and product quantity.
As your customer selects different options within the pricing table, the subtotal, tax, and total will reflect the changes in real-time.
This is significantly different from static pricing tables that require the CSM to manually recalculate the total amount before the customer can complete the transaction.
By using an interactive pricing table, your customers will be able to pick and choose from your inventory and make a payment based on the price reflected in the pricing table.
Renewal reminders
CSMs can manage anywhere from 20 to 100 accounts at any given time, and they have a lot to remember about their respective accounts.
Renewal dates shouldn't be one of them. Manually tracking renewal dates is a recipe for disaster. Things can easily slip through the cracks when you don't have the proper reminders. Enter auto-renewal notifications.
Auto-renewal notifications can help you easily track and monitor upcoming contract renewals automatically.
When you complete the initial contract, you will be able to schedule renewal reminders for either the contract duration or a specific date.
For example, a lot of our customers set up a notification 30 days before the renewal date so that you can begin to initiate the contract renewal process.
Marketing
Your brand is a vital part of your business. It's how customers will perceive your products and services, and it will ultimately help you cut through the noise.
For your small business to compete with the goliaths in your industry, you need to maintain a consistent brand across all channels, including your business documents.
We know that most small businesses don't have the resources to hire an in-house marketing team or creative agency to design business documents for them.
And you might be in that position yourself, but that shouldn't stand in the way of you creating beautiful, impressive documents.
You can create quality, hyper-personalized documents easily without breaking the bank right from PandaDoc with these small but mighty tools: content library, custom branding, and a fan favorite by many small business owners, our Canva Integration.
"PandaDoc not only allowed our team to create top-notch looking proposals that far exceed our competition, but the platform provided valuable insight into how our clients were interacting with the information inside of the proposals."

David Venus, Director of Marketing at PixelFLEX. Read their story.
Canva integration
Our Canva integration offers a simple, flexible, and inexpensive solution for businesses looking to create and send high-quality graphics and designs to prospects.
Like PandaDoc, Canva's user-friendly drag and drop interface makes it easy for small businesses to create presentations, product roadmaps, and other visually-driven content in a flash.
It's the perfect solution for organizations that want to create a consistent brand image across their internal and external facing documents without dedicating time or money to an expensive design agency.
This integration gives you access to millions of design elements such as images, fonts, illustrations, and templates that you pull into your documents.
You can also use Canva to create branded content library items, but we'll talk about that later. Our
Canva integration can be accessed in two ways: using the Canva Button directly within PandaDoc, or straight from Canva – where designs can be published to PandaDoc. Check out this webinar on how to design and send polished documents with the PandaDoc + Canva integration.
Content library items
While we're on design elements, let's talk about your content library.
Your content library is a bank of visual assets where you can create or upload case studies, images, logos, customer quotes, videos, and other multimedia elements that you would like to embed within your documents.
And it doesn't just stop with visuals. You can even add a single block of text (i.e., terms and conditions or other legal clauses), an entire page, or a complete document/template to your content library.
Instead of searching for a specific logo or statement on your computer hard drive or previous documents every time you want to use it, you can simply upload it once to your PandaDoc Workspace and reuse it repeatedly.
Here's how content library items work. When you go to prepare a document either from scratch or a template, you will be able to drag and drop various content library items into your document in a matter of seconds.
Just select the content library icon on the right sidebar and either scroll through or type in the name of the content library item you are looking to add. We put together a step-by-step guide to help you get started with content library items.
Custom branding settings
Now that you have your content in a centralized location, you'll want to set up your brand and theme settings to ensure that everything from emails to documents matches your brand's guidelines.
Before we jump in, just a quick note, only Workspace Admins and Managers can change your workspace's brand and theme settings.
You'll start by customizing the document delivery and notification email. Go to workspace settings and select branding.
This setting will allow you to add your company's logo and change the button's color within the email your customer receives when a document is ready for review.
And if you want to remove the PandaDoc branding from the email, simply check the "remove PandaDoc branding from the subject line" box. Check out this helpful resource if you want to completely white-label your PandaDoc delivery email.
Next, set up a theme that aligns with the brand. Start by opening a new template, go to design, and select customize theme.
You just need your brand color HEX code and Google Font URL to start. You'll want to tailor four key elements within your template theme:
Theme color: default color for headings and hyperlinks
Text: fonts, size, style, capitalization, alignment for headings, subheadings, and normal text
Table design: the header typography, border styles, row color, and even cell padding for both tables and pricing tables
Page layout: page background, headers, footers, and page numbers
Once you're done, simply select "Save as New" and change the name, then press save. With PandaDoc Theme, you can create a single theme across all of your documents or create individual themes for proposals, contracts, hiring documents, and more.
Any document or template you create moving forward will automatically apply the default theme.
We hope this post inspires you to try something new with your team. Be on the lookout for part two to learn how you can get even more from PandaDoc.
Special small business limited-time offer
In the spirit of teamwork and collaboration, we want to celebrate your small business by offering you a BOGO (Buy One Get One) on any new license purchases until June 30th, 2022. Contact your account manager today to learn more about this offer.
*PandaDoc defines a small business as one with 50 employees or fewer. Promotion is not valid with any other discounts or offers. Promotion redemption is only valid until June 30th, 2022. The promotion is only valid for one redemption per customer. PandaDoc reserves the right to modify or discontinue this promotion at any time for any reason.