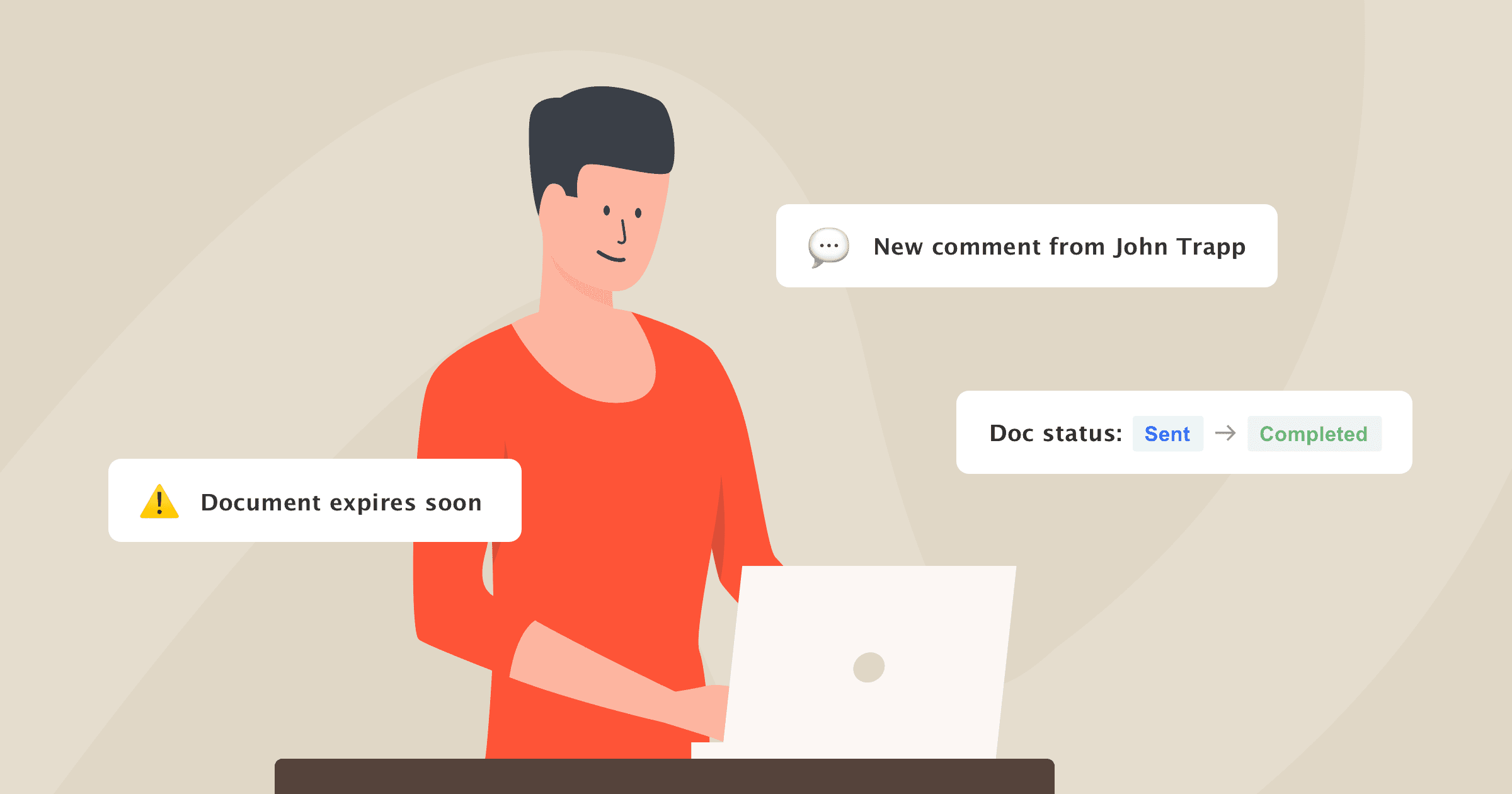 As a sales rep, you are a juggler, a hustler, a multitasker, and ultimately a deal-closer. You don't just create and send documents – you get after it!
This article focuses on how to prioritize your day-to-day within PandaDoc to drive the biggest impact and… wait for it… CLOSE. MORE. DEALS.
If you are looking for best practices on the deal-closing process itself, check out this Unleashed article on keeping deals in motion. If you are looking to maximize your day's potential and bring home the bacon, you're in the right place.
It starts with a routine
"If you make your bed every morning you will have accomplished the first task of the day. It will give you a small sense of pride, and it will encourage you to do another task and another and another."

Admiral William H. McRaven
By the time you reach the office, your mind is already starting to race through the day's to-do list.
In your quick quest to the kitchen for your morning coffee, scroll through your calendar on your phone and get an idea of your meetings for the day (you're not supposed to be in a meeting right now, are you?!)
While your coffee is brewing, take a glance at your inbox and scan for any subject lines that might indicate a red flag or urgent task. Wrap up your kitchen conversations about the weather and holiday plans and head back to your desk, hot coffee in hand.
In the time it takes for your coffee to cool to drinking temperature, you can get a scope of your deals in motion within PandaDoc.
As soon as you log in to PandaDoc, you will land on the Dashboard. The status tiles visually summarize your pipeline, while your timeline on the right-hand side displays recent activity on your documents.
This big-picture view allows you to define your focus for the day, as well as shine a light on any fires that may need immediate extinguishing.
Since our Sales team is full of product experts who use our very own tool to sell it, I interviewed them about how they use PandaDoc to prioritize their deals. From our sales team to yours, here are the top 3 places to check within your Dashboard to help you create your to-do list for today:
Sent
These are the documents that are sitting in your recipients' inboxes just begging to be opened. You've done your part by sending it but your potential client has yet to open it. What's the holdup?
Viewed
Your recipient has opened the document, hopefully read it, and maybe even forwarded it or downloaded it (more on that later), but the decision-maker hasn't clicked the big green "Finalize" button yet.
Do you see your recipient's signature, but the document is still displayed as Viewed? Make sure your recipient clicked "Finalize!"
Declined
The Declined status holds the documents that have been turned down by your recipients.
This may look like a hard no, but catching these in a timely manner may present an opportunity to continue the conversation or receive valuable feedback for the future. Either way, following up with this prospect just moved to the top of your to-do list!
Tackle time-sensitive tasks
While the Dashboard is an excellent high-level overview, the Document List filters to show time-sensitive deals that require immediate action.
For example, the "Expiring Soon" filter displays documents that are expiring in one week or less, which means it's time to check up.

You can also filter and/or sort by document status (draft, sent, viewed, etc.) and order your list alphabetically, by doc created date, etc. to quickly find what you're looking for. Check out this article for more advanced information on sorting documents.
Determine whether it is worth your time
Your time is valuable and let's face it: no one wants to feel misled by a prospect. But how can you tell if they're really interested?
Lucky for all of us, our awesome Product team created Document Activity and Analytics to help unveil the mystery of what happens after hitting "send." These reports are key to understanding your recipients' intent in order to ultimately decide if the deal is worth your time.
Get the pulse of your prospect's engagement
The Actions tab within Document Activity shows every customer interaction that can give you insight into the true stage of the deal.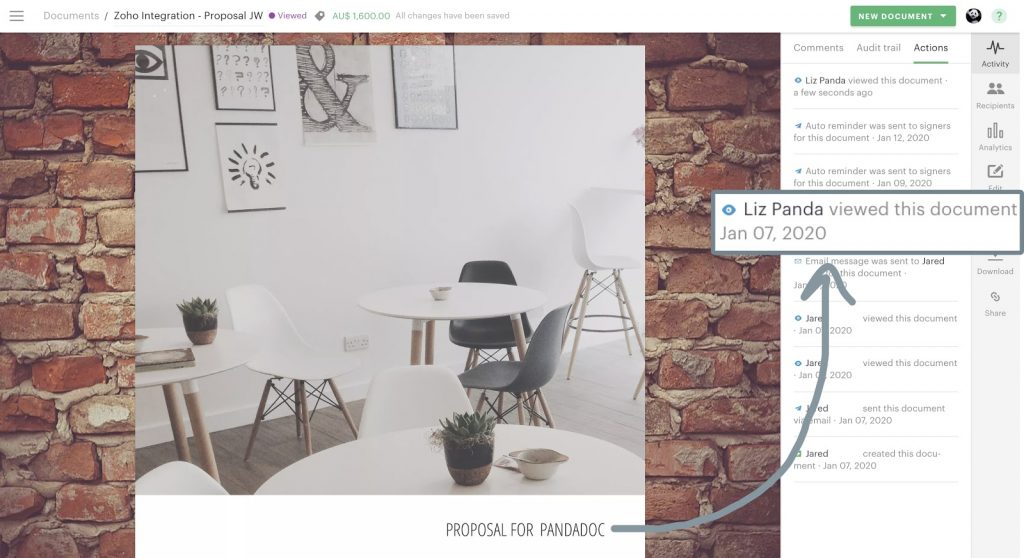 Ask yourself these questions as you scroll through the Actions:
Did the original recipient forward the document to anyone else?
How soon after my original email did the recipient view the document?
Did the decision-maker view the document without me prompting them?
Are there any obvious patterns indicating that your prospects are likely reviewing the document?
Focus in on your active deals
Opening up your Document Analytics is like trying on prescription glasses for the first time; all of a sudden, you can clearly see the facial expressions of that blurry shape in front of you. When you peer into recipient analytics, you not only see that they've viewed the document, you know exactly what pages they've looked at, how much time they've spent on each page, and even if they downloaded a copy.
Analytics are broken down by individual recipient and include valuable data such as:
Number of times the recipient has viewed the document
Total time spent on the document
Whether or not the recipient downloaded the document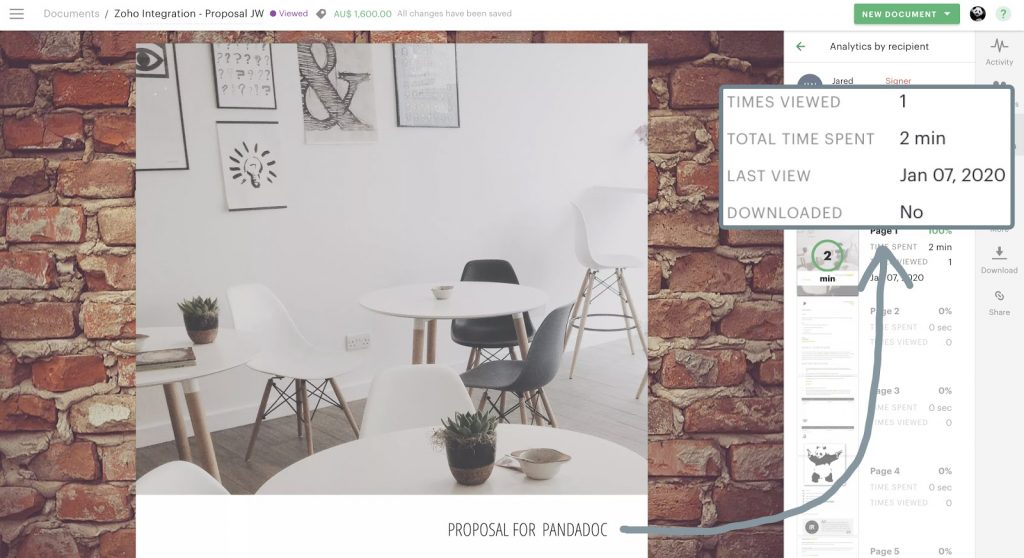 Here's a pro tip on how to actually use all this information (from one of our top-performing Account Executives, Luke):
"Use the time spent on each page to find out what the prospect is really interested in, and then post a comment about the content that he or she took the most time to read through to further customize the interaction. Show the prospects that you know what matters to them."
Keep an eye out for notifications
Since timing can mean the difference between closing a deal or not, it's critical to take advantage of your prospects' undivided attention when you have it. As you're cranking through your to-do list, keep an eye out for email notifications and be ready to act swiftly.
Our Sales team's favorite email notification is "Document is opened by a recipient every time." When this option is checked, you as the document sender will be notified every single time a recipient opens a document.
Act quickly to capitalize on the fact that your document is top-of-mind for them. Sending a quick email or comment or picking up the phone while your recipient has the document in front of them can help expedite the conversation.
Push without being pushy
Send a reminder
This is a classic automated email reminding your recipient to sign the document, and if timed closely to the recipient opening the document, a convenient coincidence!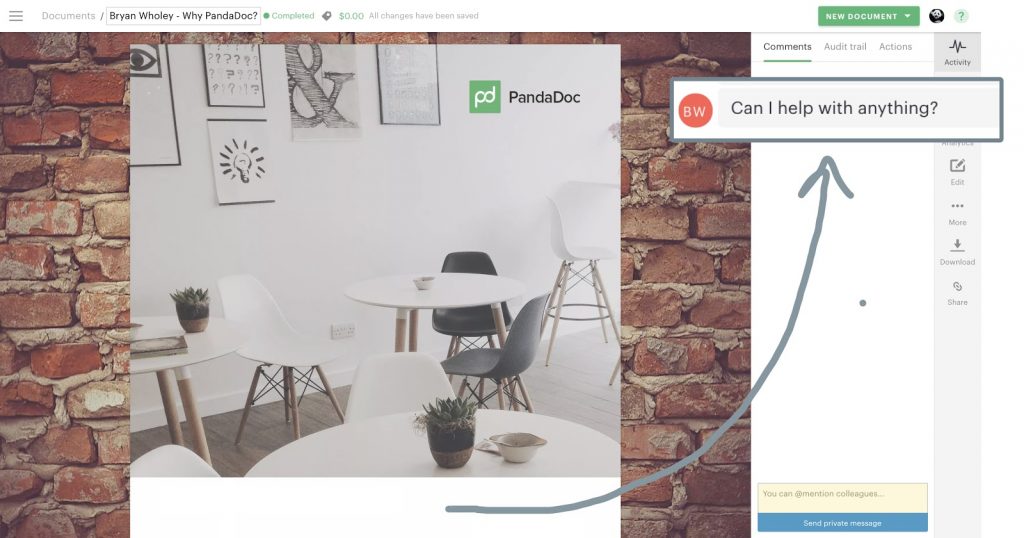 Comment
Send a customized message from you that is linked directly to the document. This is a nice touch at any stage, however, it could be a game-changer if you send it when you are certain that you have the prospect's attention.
Send a link via text or email
If you are already communicating outside of PandaDoc in a text or email thread, you can include a direct link to the document as a sneaky reminder.
Pick up the phone!
Okay, okay, fine – it's not within PandaDoc, but what better way to ensure you have your prospect's ear?
Wrapping it up
Thanks for fitting this article into your busy day! As a reminder, here are the key takeaways:
Start from the Dashboard
Work by document status (don't forget Declined!)
Consider time-sensitive documents (like expiring soon)
Use Activity and Analytics to understand intent and rank deals accordingly
Always enable notifications!
Don't waste your valuable time and effort digging through piles of documents and guessing what matters most to your prospects – that's our job! We're here to help you cut through the noise and focus on what really matters: closing deals, faster.