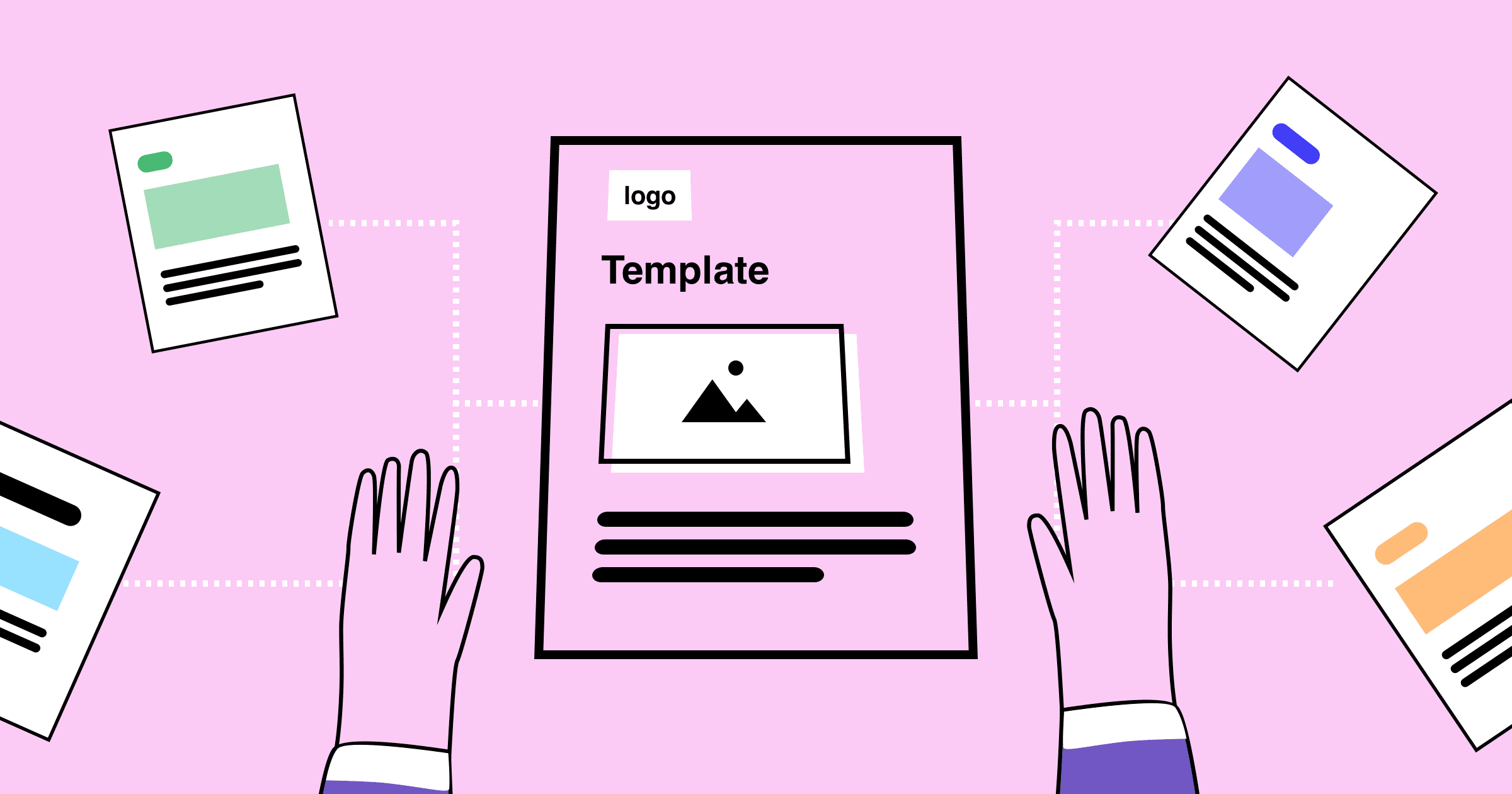 Set your team up for success by creating the ultimate reusable proposal template. In this post, we'll focus on the "admin" side of things rather than the content of the proposal itself. For tips on ideal proposal structure, length, content, etc. be sure to check out "Create proposals that stand out & get signed." The main takeaways from that post are:
Ensure your proposal is relevant and speaks to your prospect's pain points
Get your recipient's attention with a visually appealing design
Keep your audience engaged with relevant content, videos, and interactive blocks
Use data and social proof to "show" rather than "tell"
Make it easy to sign
Don't forget to send reminders!
Proposals are like ice cream sundaes
Hear me out…
If you overload a sundae with too many toppings, certain flavors get lost in the mix and the end result is rather unappetizing (chocolate syrup and gummy bears?!… no thank you). If you add cookie dough bites but your prospect only likes sprinkles, they might throw the whole thing out instead of digging past the toppings to get to the ice cream.
For proposals, this means:

To continue with our ice cream sundae analogy (because who doesn't like ice cream?). In this post, we'll show you how to prepare the perfect ice cream base and lay out all the toppings. Now your reps can breeze through and quickly create ice cream sundaes for every prospect, skipping the ingredients they don't like (ahem, cherries) and focusing on the ones they do (hot fudge sauce, anyone?)

Determine the ideal template structure
There are a few ways to approach templates: from bare-bones outlines to 50 pages full of content, we've seen them all. Here are some best practices for determining your template strategy and structure:
First, what type of template?
There are two types of templates: editable and uploaded. Editable (aka native) templates are created via the PandaDoc editor (using blocks, fields, and tokens). Uploaded templates are created by uploading a file into PandaDoc.
Editable templates are the best because they are… editable! That means if you need to update wording or make changes, you can easily go in and edit that template. That also means that all documents created from that template are also fully editable. With editable templates and documents, you can use all of PandaDoc's features like the content library, image library, and all the content blocks, and tokens:


Uploaded templates are quick to create but you are more limited in your ability to customize them. Besides not being able to edit the content, you cannot add content blocks (including pricing tables), items from the content library, or use tokens.

When to use uploaded templates: Usually, I recommend editable templates for everything except for forms with lots of fields or documents with formatting that doesn't translate into PandaDoc well.

If you like the idea of creating something quickly but want it to be editable, you're in luck. You have two options:

1. With our editor, you can actually create editable templates by uploading a doc.x file. Just create a new template, upload a doc.x file and select "convert document":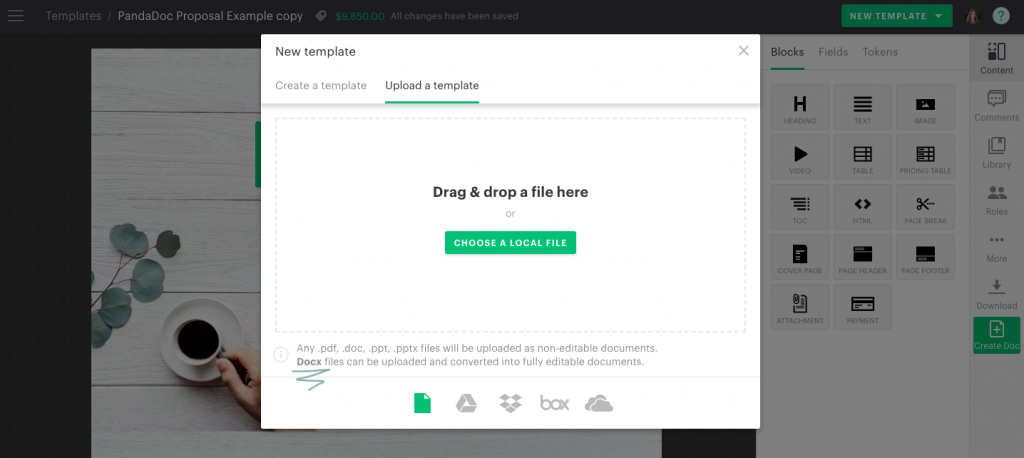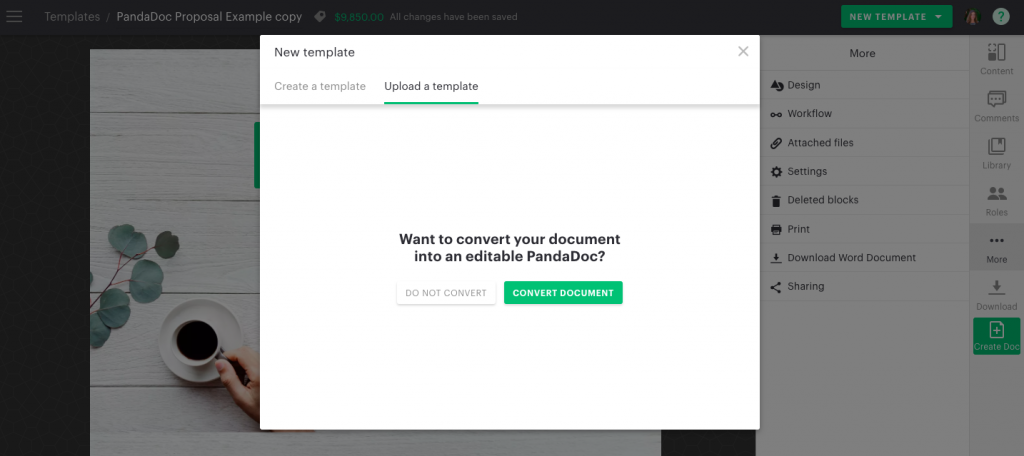 2. Start with an editable template and use the attachment block to upload a PDF into the body of your template. The PDF itself is not editable but you can add blocks above and below it, use tokens, pricing tables, and everything else our editor has to offer. I call this a "hybrid" template or document: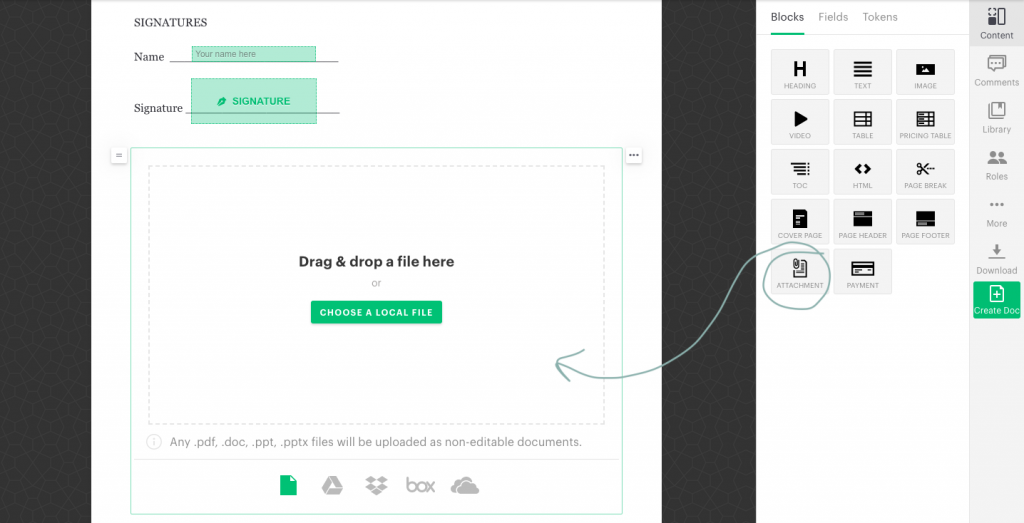 Now, how many templates?
Any time a certain type of document is sent over and over again, a reusable template should be created. However, you'll want to avoid creating too many variations of your templates as that can lead to overcrowding and make it difficult to keep all versions consistent and up-to-date. Start with the essentials (like a proposal template, a contract template, and an NDA template) and scale from there as needed.

Customize templates for different countries

While you want to avoid "overdoing" it with templates, if you have teams based in or selling to other countries often, it is important to tailor your templates by:
Using local spelling or vocabulary (ex: British English vs. American English)
Adjusting the currency in the pricing table settings

What goes in the template?
Our advice here is to start with less and add to it rather than including everything you could possibly ever need. Why? Well, thanks to PandaDoc's content library, it's incredibly quick and easy to add content into a document and it's much more difficult to remove content (as it must be deleted block-by-block).
Create the outline for the document and fill in any "evergreen" sections like cover pages, "about us" sections, the pricing and signature sections, terms & conditions, etc. Use placeholders to indicate where users should pull in items from the content library or image library to customize their document.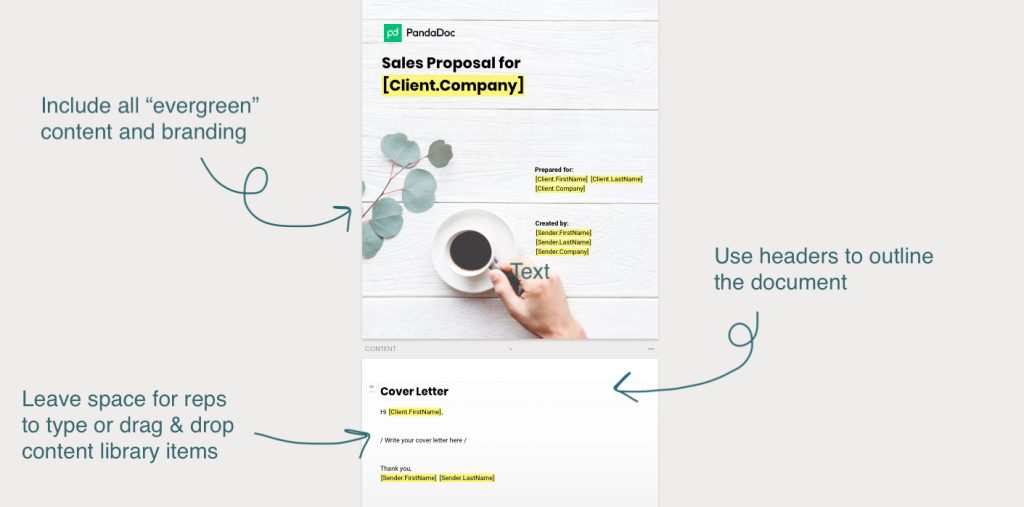 What is the content library again?
The content library is where you can store modular, reusable content like case studies, lengthy product descriptions or one-pagers, terms and conditions, etc.
To put it in ice cream sundae terms, your template is a bowl full of ice cream and the content library is your toppings bar. Users can drag and drop items from the content library into their documents to quickly create tailored documents.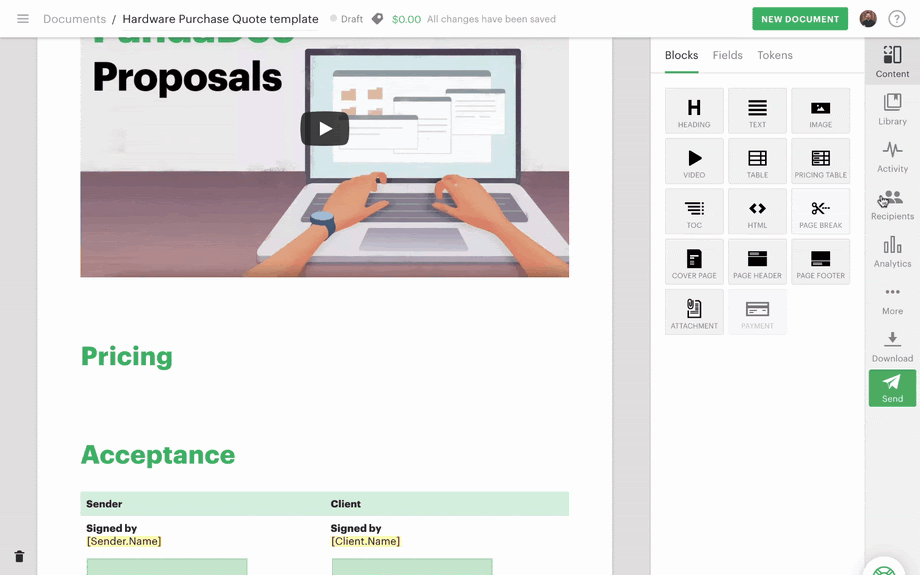 A few tricks for setting up Roles
If you've set up a reusable template correctly, you're already familiar with Roles. As a quick refresher to everyone else: roles are placeholders for document recipients and signers. Roles are handy because they each have a set of tokens that can be placed throughout a template to autofill contact information like name, email, company name, phone number, etc.
When you set up Roles on the template level, all the sender has to do is create a new document and assign contacts to their appropriate Roles. All tokens will be populated with the corresponding contact info and fields will already be assigned to the correct recipients.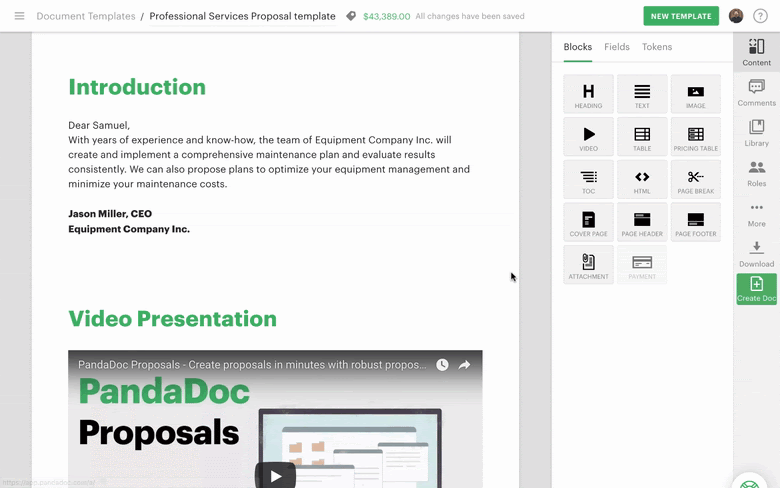 CRM users:
If you are using a CRM integration, we recommend using Roles as a way to pass over contact information that might not otherwise be available via standard tokens.
Salesforce Tip #1:
If you're using Salesforce, you can set up your PandaDoc template to automatically map a recipient to a specific Role with these 2 things:
A role field configured in the Recipients mapping
Identical Role names in Salesforce and in your PandaDoc template
If you have this set up correctly, PandaDoc will automatically insert the document recipients into their corresponding roles when a document is created.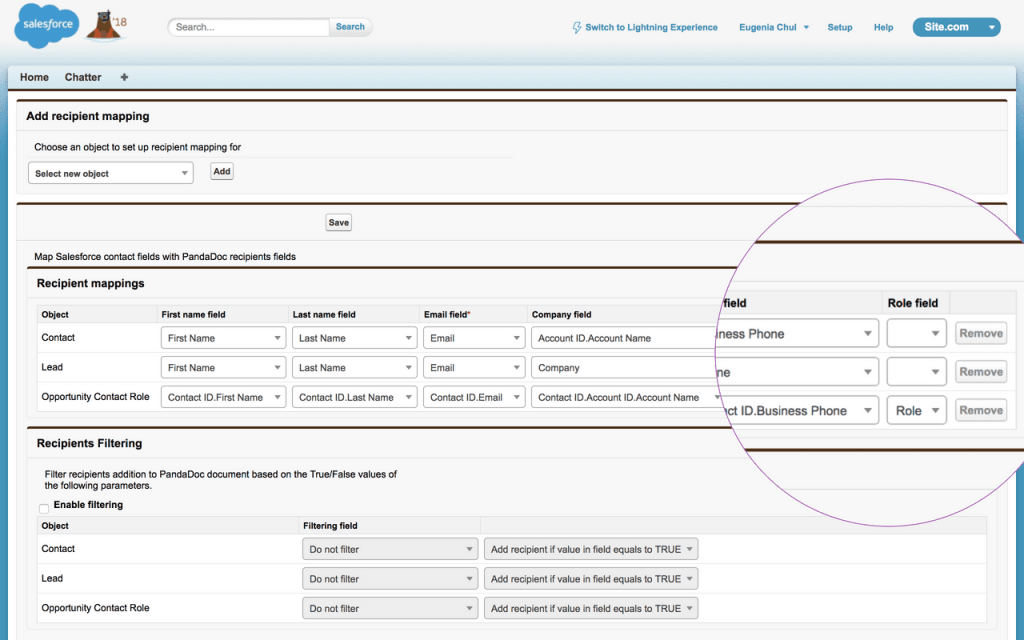 Salesforce Tip #2:
PandaDoc automatically pulls all related contacts from Salesforce into the document. If you want to remove any of those contacts, you can delete them one-by-one in the role assignment pop-up window (when you first create a document) or disable the auto-cc ing of contacts by setting up a recipient filter:
Go to "+" > PandaDoc Setup > Configure recipients;
Scroll down to "Recipients Filtering";
Click "Enable Filtering";
Choose a field based on which value recipients will be filtered;
Choose the value of the field based on which recipients will be filtered: true – yes, false – no.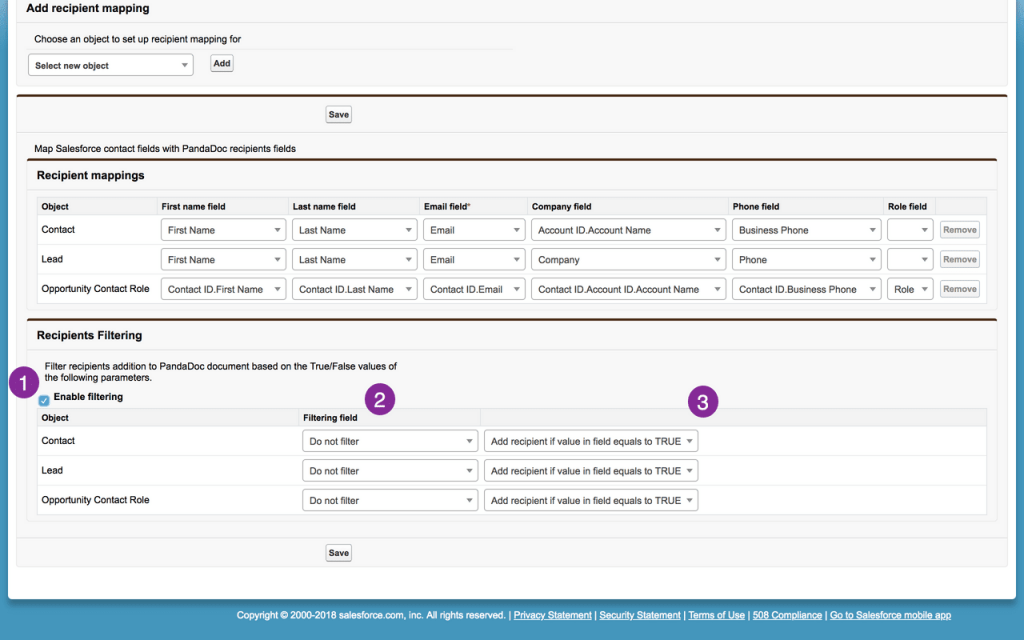 For more details, check out the "Filter Recipients" section of this FAQ page.

Document delivery settings to pay attention to
Now that you've created the perfect template for your team, it's time to focus on the recipient experience. Here are a few settings to be mindful of to create the best viewing experience:

Recipient view language
Translate the delivery email and document viewing experience for your recipients. You can set this up for particular templates only or for your entire workspace:


Enable document & signature forwarding
Nested away under "Roles" are the document and signature forwarding settings. Enable document forwarding so document recipients can forward the PandaDoc document to another recipient (yes, you can see who it's been forwarded to and if they've viewed it, etc.).
Enable signature forwarding to allow a document signer to reassign their fields to someone else (same deal, you can see who it was reassigned to). This is key for keeping documents moving even if it turns out your recipient is not the decision maker or signer.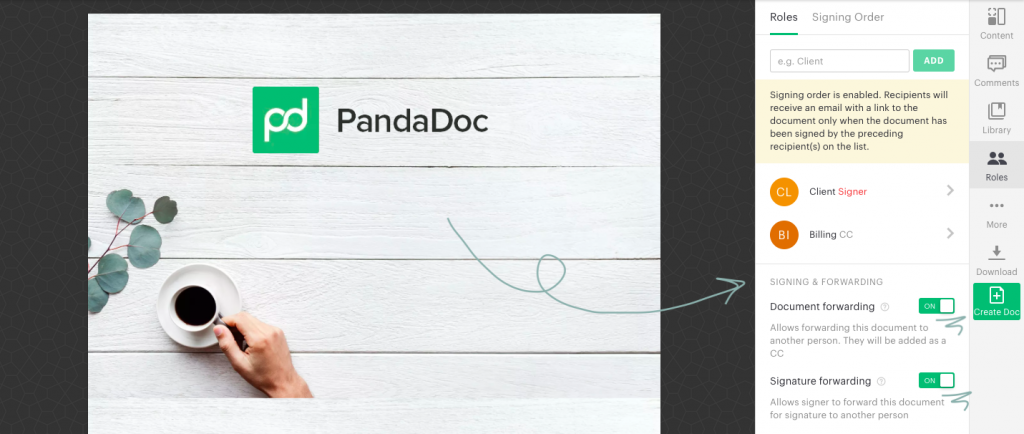 Branding
Customize the logo and email footer for your document delivery emails for a branded experience: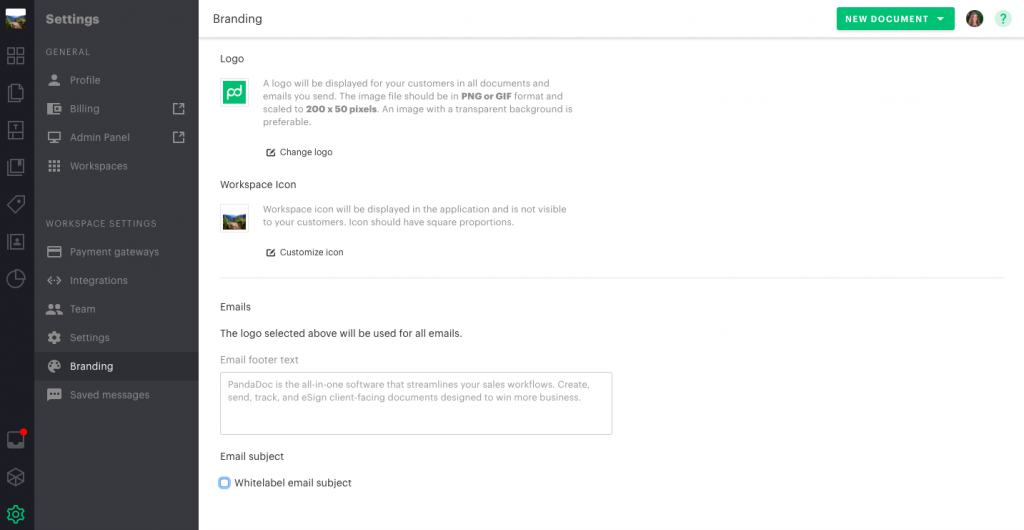 White-labeling
Taking branding one step further, you can enable white-labeling to change the document sender address to your own branded document delivery email address. Note: this is a bit more difficult and requires you to update your DNS records. For more info, check out this FAQ article.

Key takeaways
To enable your reps to send winning documents without overcomplicating the process, all you need is a little preparation. Load up your workspace with a few well-thought-out templates and content library full of modular content and your reps will have everything they need to create highly tailored documents in a matter of minutes.