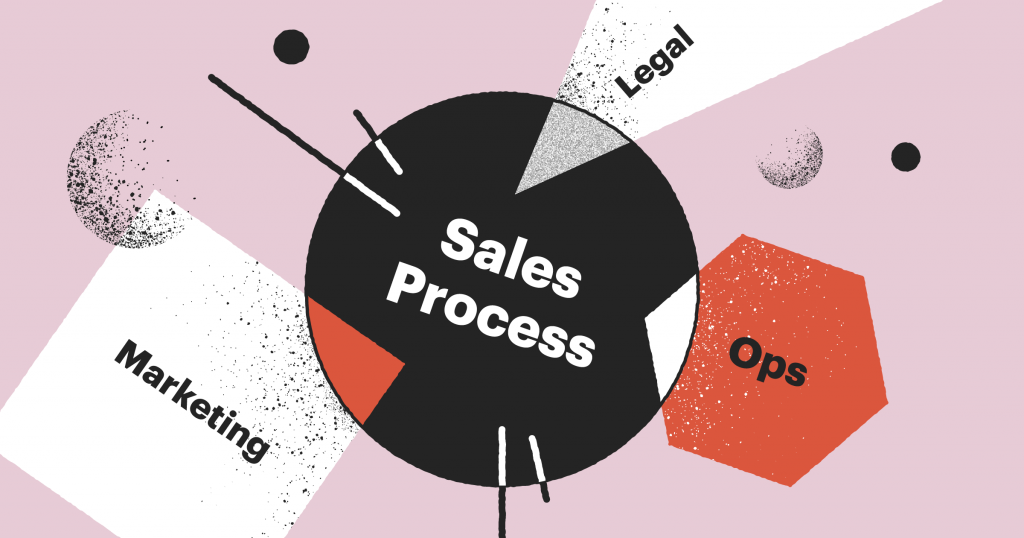 When your sales process is chaotic, your reps, deals, prospects, and business all suffer.
Sales processes are complicated as they involve multiple teams across the organization — each of whom care about something different:
Marketing cares about staying on brand
Legal cares about maintaining security and compliance
Ops cares about efficiency and accuracy
Sales reps want to move fast and close deals
So, how do we account for quality assurance, protect ourselves from costly mistakes, and still move fast? By setting our accounts up to remove bottlenecks and support our ideal sales workflow.
In this article, we'll cover how your team can move faster while maintaining quality and control by optimizing your account in four simple steps:
Optimize your account structure
Define your document workflow
Customize and personalize the buying experience
Make approvals and revisions seamless
Optimize your account structure
Simply put: optimizing your account structure means setting your account up to best support your workflow. This allows you to operate with efficiency and achieve optimal levels of success (sounds good, right?)
Use your workspaces
Workspaces allow one PandaDoc account to have multiple separate environments, each with their own content, settings, reporting, and team members.
Operating out of a single workspace that's home to everything and everyone means different teams with different goals and requirements are all mixed in together. It's like having the football, basketball, and soccer team all in the same arena; there are different lines painted over each other, a mix of nets, hoops, and goalposts, shin guards mixed in with football pads, soccer balls with the basketballs. What if you had an unlimited number of arenas? Would you still toss all your teams into the same one? Probably not.

When each team has its own workspace, things become a lot simpler. Each workspace is set up specifically for that team's workflow, with the appropriate team members, managers, branding, settings, and only the content that is relevant to them.
While it's most common to organize workspaces by team (as shown below), you can also organize them by location or language — whatever best fits your organization's needs and workflows.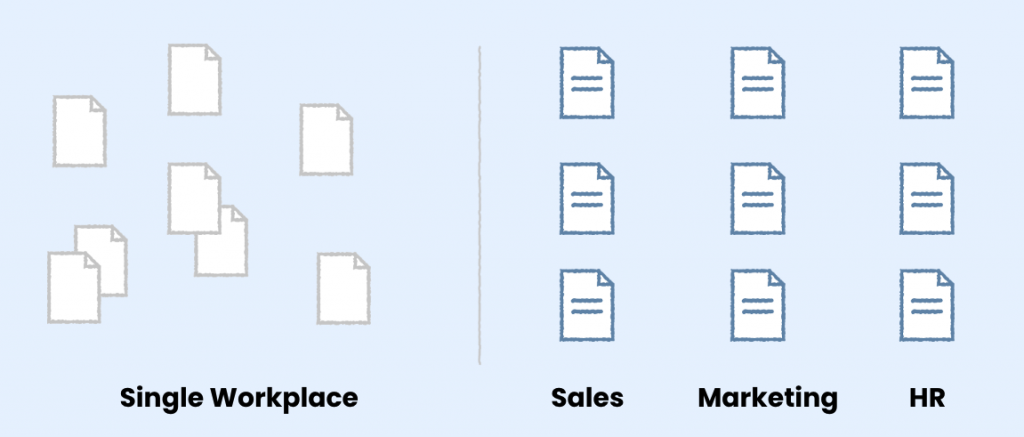 Here at PandaDoc, our marketing team has their own dedicated workspace which is used to create and refine content before sharing it with the Sales team. This allows us to control the visual identity and brand representation from one place – without having to worry that Sales is sending something out before it's ready.
Not only do workspaces function as great organization mechanisms by ensuring content is relevant and easy to find, they also guarantee that sensitive information is viewed only by the appropriate team members (ex: HR documents should not be visible to the Sales team).
Control at scale with account roles
Beyond organizing team members into separate workspaces, you can leverage account roles to distribute power appropriately within a given workspace.
For example: if Alyssa is a Sales Manager, she would have a Manager role within the Sales workspace, allowing her to see all of her team members' documents and make edits, etc. but she might have a team member role in the HR workspace, allowing her to send out offer letters but not be able to edit Templates or view other team members' HR documents.
Pro tip: Customize a user's level of access and create your own permissions with custom roles.
Define your document workflow
When you clearly define your document workflow, you can ensure your team is working in the most efficient manner possible.
Start with a template, always
Whether you're generating documents from your CRM or directly within PandaDoc, you should always start with a template.
Templates provide your reps with the framework they need to quickly build out a top-quality document with just a few clicks. Not only do Templates save time for your sales team, they also reduce manual errors and ensure that customer-facing documents adhere to your organization's qua;.lity and branding guidelines.
Stay in your CRM
Our CRM integrations give you all of the functionality of PandaDoc without leaving your CRM platform. Autofill your documents with CRM data to cut down on time and effort, reduce manual errors, and keep your data integrity pristine.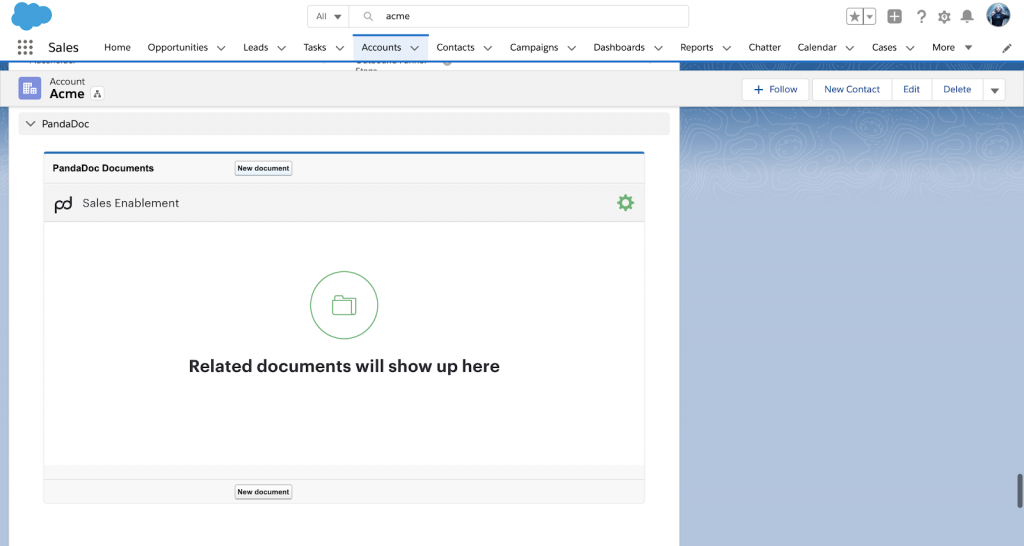 Drag & drop approved content
Leverage the content library to quickly build out documents. Select from the curated library of pre-approved content like "about us" sections, relevant case studies, detailed product listings, and graphics or videos.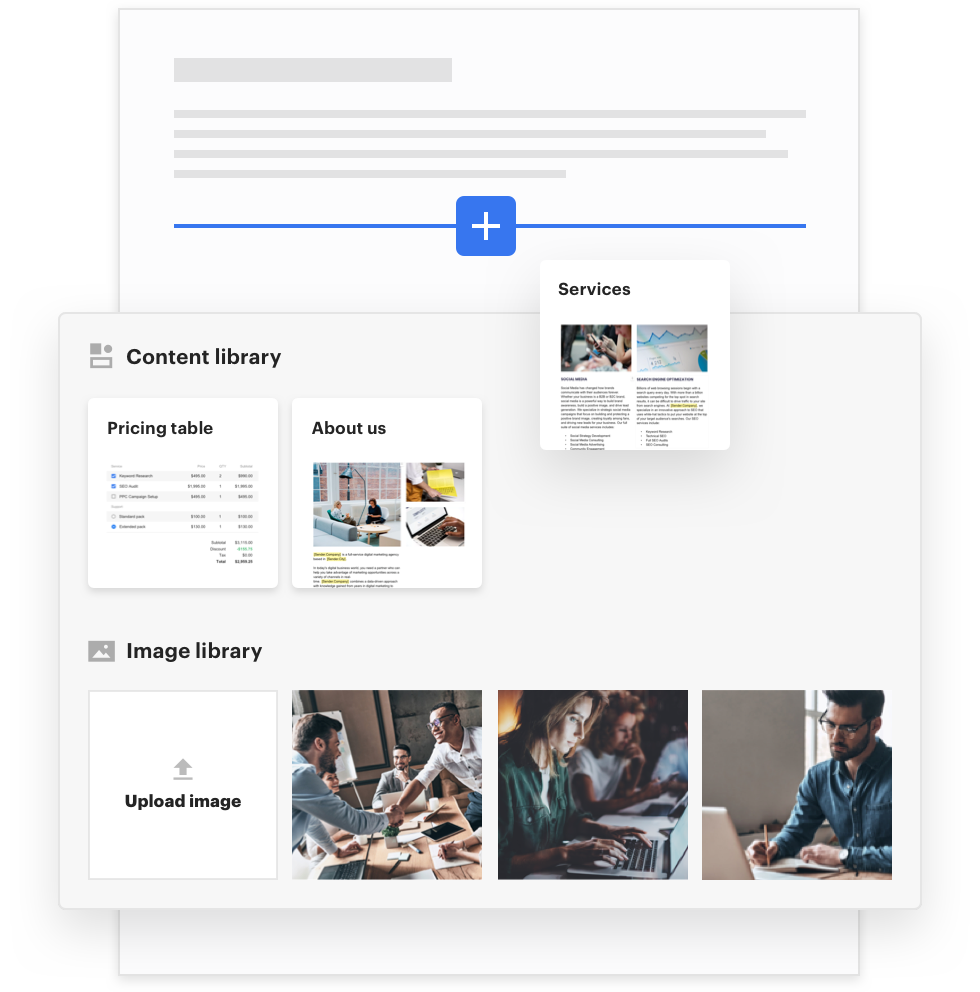 With the content library at their disposal, your reps don't have to ask your design team for a logo or one-pager every time they send a document or spend time tracking down marketing-approved content. Everything is available in one central repository so your team can just drag & drop it into their documents.
Customize and personalize the buying experience

Customization is where reps should spend the majority of their time while building out documents. In our State of Deals report from earlier this year, we learned that 86% of buyers expect sales reps to personalize any sales material. On the other side, 64% of sellers believe personalized documents help close more deals.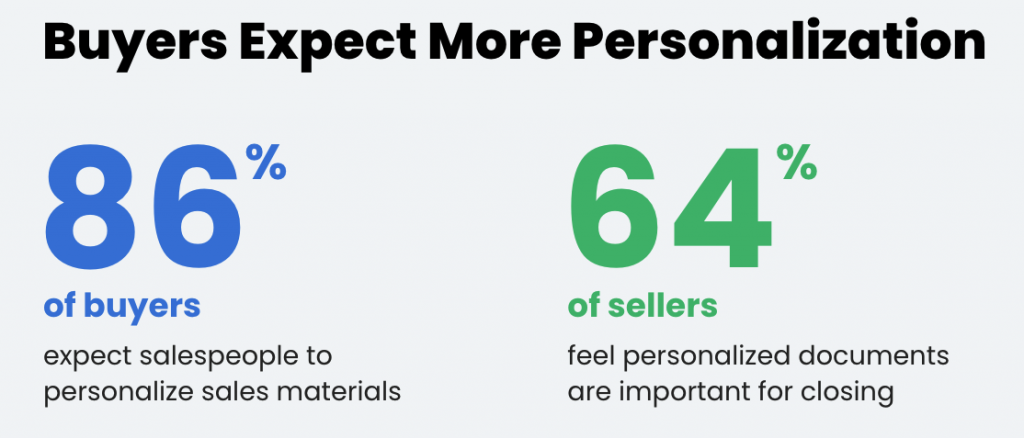 As outlined above, personalization is quick and easy within PandaDoc. Start in your CRM to autofill the document with your customer's information, then drag & drop relevant blocks from the content library to create a fully tailored document.

For those who are concerned about their reps getting a bit "too custom" with their documents: while they can drag & drop and rearrange content, team members can't edit the content library items themselves if you use content locking. Content locking ensures that standard content items, like legal terms and conditions, are 100% consistent and compliant.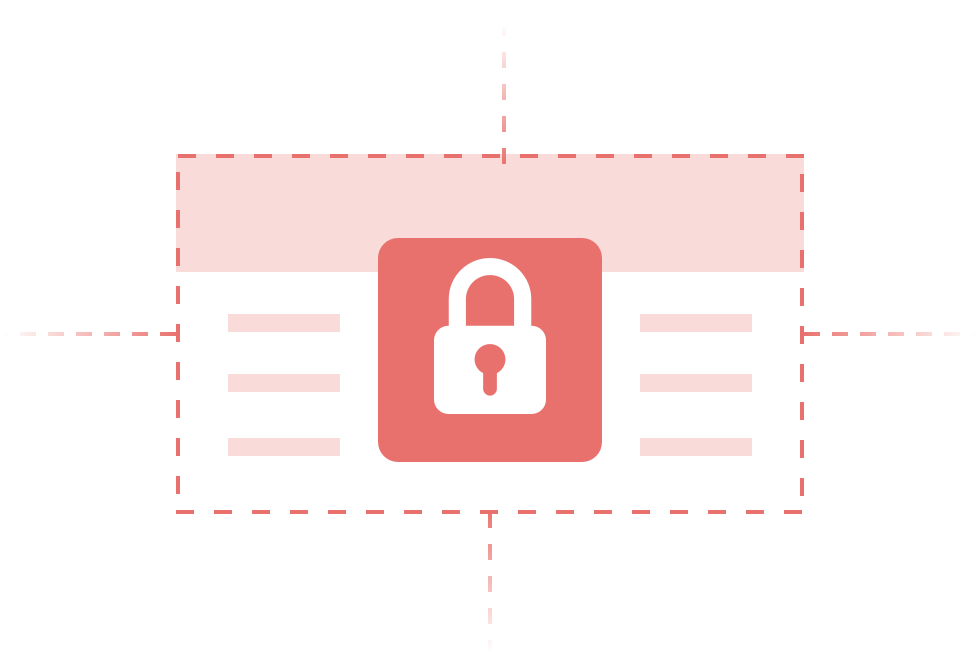 Make approvals and revisions seamless
Enable automated approval workflows for documents requiring manager approval.
When a rep sends a document, it will automatically go to the designated approver(s) who receives a notification email and can approve or reject it (and leave comments if necessary). Once a document is approved, it will automatically be sent to the end recipient. No more back-and-forth required — no more delays!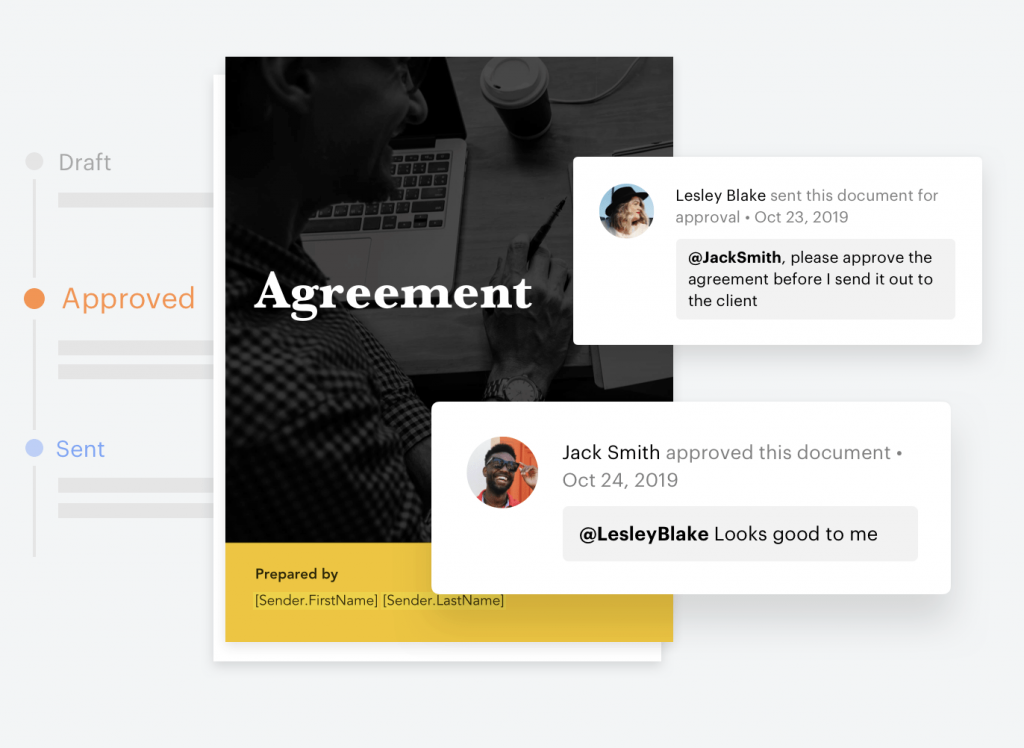 As a safeguard, PandaDoc has version control so you can always:
See when a document was edited or sent
Know who edited the document
View or restore previous versions
Wrapping up
That's all, folks!
Now it's your turn to break down any barriers blocking your sales team so they can move fast, deliver top-quality documents, and get back to focusing on closing deals.